This holiday season Tom and I were looking for a way to do something BIG to help people in our local area who are in need of having a Christmas this holiday season. We had talked about the different ways we could do things and a few weeks ago we were talking about what our budget would be and how we would be able to do what I was dreaming of doing and then the e-mail came in my inbox.
An e-mail from Kohl's that would help me change the lives of two families. I knew exactly who I would be using the gift card for to make their holiday's wonderful. These 2 families are two of the best I know, two that I know this would mean the world to them. Two families who just need a hand to help them but would never ask for that helping hand, heck neither one likes to say anything about even needing to  Two families who I have watched try hard to do what they want to do but then hit a road block and who I know that when they see this surprise will be more thankful then words can say.
Here is a peek at what we got the kids on our shopping list:) I did not unfortunately get a chance to photo graph all of it 🙁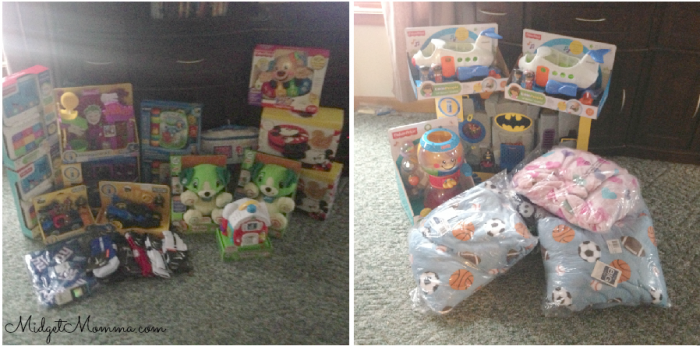 Last week we gave the 2 families their gifts that we bought thanks to Kohl's and their reactions were amazing, they were so surprised and with the help of Kohl's I was able to make 2 families have amazing Christmases this year.
I wish I had gotten photos of their faces, but alas we were all to wrapped up in the surprise, the cheer and the happiness that photos were forgotten.
Thank you Kohl's for giving me the opportunity to help those in need and spread holiday cheer!!