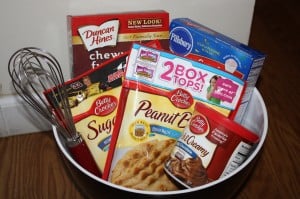 Well, it is not really in a basket but in a Mixing bowl🙂 And MANY Items are already in your Stockpile and you can use things in your stockpile to save money. This is great for the person on your list who loves to bake, even a kid who enjoys baking with their parents 🙂
Ideas to put in it:
cake mix
cookie mix
measuring cups
spatula
brownie mix
sprinkles
oil
wisk
flour
sugar
chocolate chips
wooden spoons
baking soda
Cookbook of baking recipes or even note cards with your favorite baking recipes (and the ingredients to make some of them)
Silicone bakeware
To put this together, just put everything in the mixing bowl so it looks pretty and you are done 🙂
You can save money on many baking needs easily by printing the baking coupons from
coupons.com
,
red plum
,
smart source
and
coupon network
. Right now is a great time to get coupons for baking needs, many of the coupon site have them 🙂
Join the newsletter
Subscribe to get our latest content by email.