Disclaimer: I was provided a most expenses paid press trip to attend a press junket with Disney. No compensation was received and all opinions are 100% my own.
So I can not draw a circle – ok maybe my drawing is not that bad but it is pretty bad so when I was in LA at the Disney Toons Studio where we met Art Hernandez to learn about drawing the characters in Planes I was excited. I am always fascinated by the art that I see others draw because mine is so bad. During our talking with him he showed us how to draw Dusty,when he first said we would be drawing him and we would all be able to I did not believe him. In fact I even told him about my lack of drawing skills and he assured me that with his steps I would be able to draw Dusty… Sure enough he was right! However it was not easy and mine is no where near perfect but here it is
Speaking with him brought a new found admiration for story artists. It is their job to come up with what the characters look like, and in the end they draw between 40,000 and 50,000 drawings just for it! Before computer technology it was all done on paper with a pencil like we had done ours, but thanks to computers they can now do them all on a drawing board! While it is still hand drawn now it is done using photoshop and a cool "pencil" on a flat computer.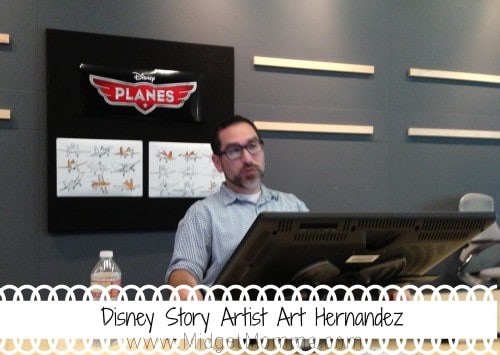 Getting to know information about the making of a movie makes me appreciate it even more and I hope that getting a glance at the work that is put into the movies does the same for you.
Planes flys into theaters on August 9th!
This post may contain affiliate links. Please read my disclosure policy here