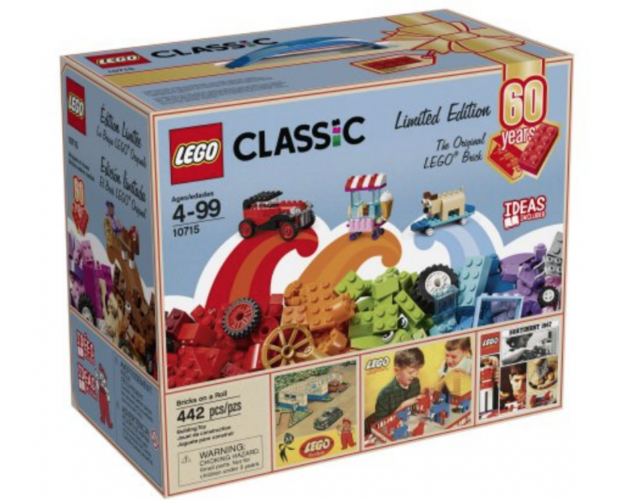 If you have a LEGO fan in your house then you know the excitement of a new LEGO set coming in the house! If you have a LEGO obsessed kiddo like we do then you know that the only thing more exciting then new sets, is limited edition OLD SCHOOL Sets!
Right now at Walmart.com you can score the exclusive Limited Edition 60th Anniversary sets! But you are going to have to be quick and get them now. They only have a limited amount of the sets and once they are gone they are gone!
These LEGO Classic Bricks 60th Anniversary Limited Edition Sets are a must have for any LEGO fan! Plus they are really, really cool!

LEGO Classic Limited-Edition: Bricks on a Roll (Walmart Exclusive) – $29.99
Create all kinds of vehicles, from a wheelchair to a horse and cart, with this special LEGO® Classic set, featuring a wide selection of wheels and tires in a variety of colors and sizes. This set also comes with a selection of LEGO pieces including bricks, shapes and eyes. From a skateboard or ice cream cart to a 4×4 with caravan trailer, the Bricks on a Roll set will get your wheels of creativity turning!
Walmart-Exclusive Anniversary Minibuilds – House, Windmill and Truck – $19.99 each
Right now you can get the LEGO Classic 60th Anniversary Limited Edition Windmill and the truck will be available on February 9th.
Join the newsletter
Subscribe to get our latest content by email.