This is a Sponsored post written by me on behalf of Fresh Step and Meow Mix for SocialSpark. All opinions are 100% mine.
I talk a lot about myself, Tom and the kids but have you ever wanted to know about my cats day to day life? Ok so it might not be as exciting as the sarcastic comments I post about on facebook from Alyssa my 4 year old, or the awesome fashion McKenzie my 9 year old has or the love for talking about video games that Logan has but I am sure by their actions my 2 fur babies would have a story each day so I figured why not put their day into writing for them 🙂
Mornings are rough in our house, both Tucker and Jazmin sleep in our bed, the evil looks I am given when I get out of bed when they are not ready to sometimes could seriously hurt someone. Of course thats not to long lasting as the fly down the stairs as I head down to get the kids their breakfast, of course the cats want theirs too. The rest of the day is spent lounging around by the two of them. Both of them have a great love of sitting on a window or stealing someones spot on the couch. A few times up to wonder to the bathroom or for a drink and its back to window sitting. Then dinner time rolls around and the meows start coming, normally while I am making the dinner for the rest of us. Then more lounging for the two of them, until they are ready for bed and Tucker will let you konw when he is ready for bed when he sits at the bottom of the stairs whining until one of us goes to bed and he can join us, however there are times when I am ready for bed before them and when I say its time for night night and the come running up the stairs, then jump in the bed ready for snuggles!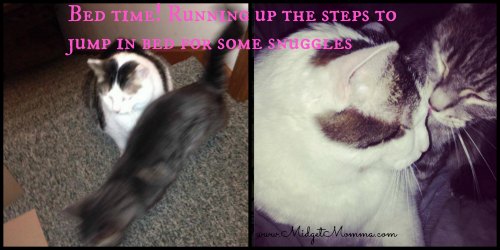 Of course as their "mom" I want to make things work well in our house for a happier cat, which of course means a happier house 😉
For us the cats are our family members, and we treat them as such 🙂
You can purchase Fresh Step and Meow Mix at Walmart.
Plus One MidgetMomma Reader will Enter to win a $25 Walmart Gift Card!! 
How to Enter:
Tell me what you do that is treating your cat like a part of the family- 1 entry
Sign up for my daily newsletter so you never miss anything
Extra Entries:
Pin any of my recipes to pinterest – 1 entry per pin
Leave a comment on any of my travel posts here – 1 entry per post comment
Follow MidgetMomma on Twitter  and tweet- I want to #Win $25 walmart gift card @MidgetMomma1200 & @MrMidgetMomma  – 5 entries daily tweets must be 2 hours apart
Follow Tom on Twitter – 1 entry
Follow Lauren on Instagram – 1 entry
Follow Tom on Instagram – 1 entry
Follow MidgetMomma on Facebook – 1 entry
Follow Mr MidgetMomma on Facebook – 1 entry
Giveaway Rules:
No purchase necessary to enter, leave a separate comment for each entry method. This giveaway is not associated with any of the entry methods. This giveaway will run till 11:59 PM EST, June 5 , 2014. The winner(s) will be picked using And the winner is (a random winner picker) and will be announced in a new blog post. Giveaway is open to US residents who are 18 years or older. By entering this giveaway you are giving consent to be added to the MidgetMomma daily newsletter. Winner will be contacted and have 48 hours to reply to contact e-mail or the prize is forfeited. Giveaway is sponsored by Walmart