Have you ever wondered what it is like to be on set of a movie working with someone who is hilarious all the time? Have you ever wondered if Steve Carell is hilarious in his "real life working" or just during what we see on the screen? When I was in LA I had the chance to interview Kerri Dorsey (Emily Cooper), Ed Oxenbould (Alexander Cooper), Dylan Minnette (Anthony Cooper) about how working with Steve Carell in making the movie Alexander and the Terrible, Horrible, No Good Very Bad Day movie.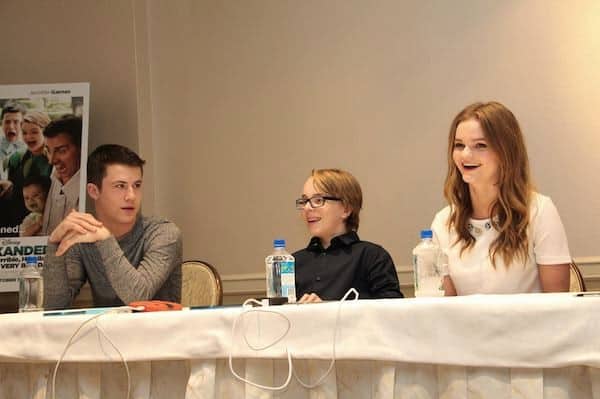 What was it like to act with Steve? Was he funny everyday and off camera? 
Ed : He was– no, he wasn't fun– no, I'm kidding. He was like the funniest person. He could make anything sound fun, anything.
Dylan : It's effortless. It's effortless.
Ed : Yeah, it's like just completely–
Dylan : He can say what he's having for lunch and you're just like in tears on the floor.
Ed : Yeah, you could– you could just look at him. And he'll give you one look. And you will just be in uncontrollable laughter.
Kerris : Yeah, and he's so like one thing is he's so smart. He's such a smart person. I think you ha– you have to be that intelligent in order to be that funny because it's–
Ed : His humor is just so–
Kerris : It's so witty and so like impeccable. Um, so that was really cool. You can just tell by looking at him, like talking to him that's he's just so smart. And the wheels are always turning.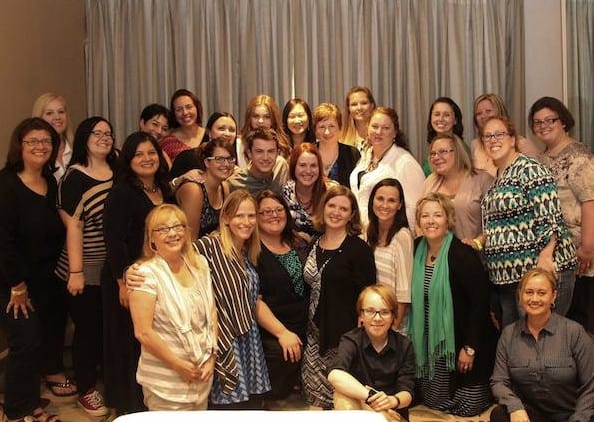 What was everybody's favorite scene with him (Steve Carell)?
Ed : I think the party scene.
Dylan : I've been saying the party scene.
Kerris : Party scene.
Ed : Yeah, it was really cool.
Kerris : Party scene was so fun.
Dylan : Yeah, I mean it was just like, what, 200 people and animals and swimming and music and food and just-
Kerris : It was so cool. We were there for a long time. So it sort of became like a home to us, you know? So, yeah, that was so fun. We actually ate the food at one point.
Dylan : I was stealing– I was stealing candy all the time.
Ed : It was poisoned.
Kerris : We were eating. We were dancing.
Dylan : It was poisoned too.
Ed : It was fake.
Dylan : It was plastic candy.
Kerris : But it wasn't real. But it was so good.
How many takesactually did it take to film those parties? 
Ed : It took a lot of dancing, a lot of barbequing.
Dylan : There was three– wasn't the part– didn't the party take three days?
Kerris : Yeah, we were at, a set out in Newhall for two weeks, and then we did the party, like three consecutive nights. So 'cause there were so many things to cover. There were like, you know, his shots and all of
Ed : There was dancing, barbecuing, DJ'ing.
Dylan : Except the animals–
Kerris : Thunder from Down Under. Um, the animals– yeah, yeah, I don't know if you've heard of them. So yeah, it took a lot of coverage and a lot of days to do. But it was actually fun. Like it sounds like it would be
Ed : It didn't even feel like we were working.
Kerris : Yeah, we had a party. We were all just dancing, and there's one shot that we laughed over every time because it's like it's on Jen and Steve. And you can see past us. I don't know what we're doing. We're just like dancing the whole time. It's like so awkward. But I mean hopefully no one notices it.
Dylan : Now they will.
Kerris : Now you will.
Dylan : Yeah, and then the– then it goes directly on us.
Kerris : On us. It focuses on us. And we're just like, ok, cool, this is happening.
What was the hardest scene for each of you to keep your composure in?
Kerris : The car scene.
Ed : Yeah, there was one scene during the car that was completely improvised. And the director just said– 'cause I would walk around set going brr-brr-brr, just making the stupid noises. And Miguel the director said I just want all of you to do it. It was kind of what? And then so we all did it. And Steve started doing it. And you can see in the background everyone's laugh. And like there was blood in our faces 'cause we're moving our shoulders like that. But it's so hard to keep a straight face.
Kerris : That was so– like I don't even know– like Steve's instrument that he was like– he was like ya-ya-ya-ya-ya.
Ed : And he's like going.
Kerris : Yeah. And like I was playing the trumpet. And Ed was just like, I don't even know. And so I, uh–
Ed : I don't know either.
Kerris : No, it was amazing. I just don't remember.
Dylan : I'm the only one that didn't have to do anything in that scene. So–
Kerris : Yeah, but you had to keep a straight face though kind of. So, yeah, so that was all the car scenes 'cause we were in such close quarters. I think we got kind of loopy at one
Ed : Yeah, yeah.
Dylan : Also the scene outside the– the van at the DMV when we were all yelling at each other.
Kerris : Oh my God, yes, that was so–
Ed : Ohhhhhh.
Dylan : That was– that was,
Kerris : When we had to ice–
Ed : We spent a whole day filming there.
Kerris : We had to isolate it so that, you know, you could hear the sound of every– so we didn't have to like go back in post and do it. So Dylan would do his part. And we would all have to like mime talking. And then when Steve did his part, literally, I could not– you had to be normal and like yelling
Dylan : Well, he was– he was– he was like yelling at me like about cra– about crashing the van improvising. And I'm off camera. And I'm just– feel so bad 'cause I'm near tears on the ground laughing. And he's still yelling at me on camera not breaking character. It was just– that was so difficult.
Kerris : Oh my God. I just wanted them to like never call cut so we could just keep going. It would've been funny for like two more hours if– at the least.
Dylan : And also the scenes with Jennifer Coolidge. That was, uh, I couldn't keep my cool like that.
Ed : Yeah.
Kerris : I can't imagine.
Dylan : That was– that was an unintended pun, but, um,
Kerris : Just– I just got it. Ok.
Dylan : Yeah.
What I thought was super awesome is that the kids loved working with Steve Carell so much that they made a song to sing to him at the end of making the movie.
Kerris : Well, um, Miguel actually called both of us and, and said he knows that we're both musicians. And, um, so he called– I think he probably called you first. And, then he called me, and he said, you know, I would love it if you wanted to write a song for the movie. And, um, my sister's a singer/songwriter. She's so talented. And so I asked her if she wanted to write it with me. And then we had like a short window that we could do it, that we could fit it in. And so we were like fingers crossed. Let's see. And, we watched the trailer sort of for inspiration. And obviously I knew what happened in the movie. And– and we sort of tried to capture the essence of– of, you know, like Disney and– and the– the worst day sort of turning out to be the best day. Um, and it– you know, it all came together in a way that it's in the end credits. So we were really happy.
Disclaimer: I was invited to an all expenses paid press trip with Disney. No compensation was received and all opinions are 100% my own.