My Little Snuggler
It was so exciting to get to prepare for baby D's arrival. I was lucky enough to have friends and family who wanted to get gifts to help celebrate baby d. I had so much want to target registering for his arrival. I was smart enough to get me in the gender-neutral items with my first baby so I didn't mean many things. The main thing that I needed was diapers and Huggies Little Snugglers with first item added to my registry. It's nice to be able to offer people small items instead of just asking for all large items on your registry. I made sure to add plenty of diapers, all-natural wipes and baby cleansing products.
Starting your
registry with target
it's very simple with target.com. On the top of their main page all you have to do is click the registry button. From there you need to click on the baby registry to create one. You will be asked to log into your target.com account or to create an account. You want me to fill out some simple information like when the baby is due. Now the fun part is to be able to add your items wishing for. They break down all the items into easy to find categories like nursery furniture, feeding, toys and activities. I know with my first baby the first item I chose to put on my baby registry was that Britax car seat and I still have it it's in great shape.
Right now target is offering a
huggies sweepstakes
when you register your wish. The lucky winner will get a free diapers for a year. When you have a baby you know how many diapers I go through in just a year you're alone! My registry wish was for my husband to be able to be there for the delivery of our son. Unfortunately when my daughter was born she decided to come to weeks early and he was away due to the military. I am very grateful that my wish came true this time and he was able to be there. The great thing the target.com if you can add items to your registry at any point. It's actually smart to check up on your registry because I know quite a few times I went to buy something for a friend and everything was already bought off of her registry.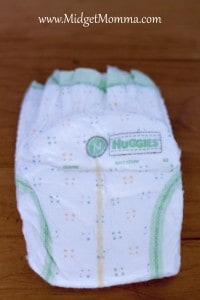 Newborns have just spent nine months of their life wearing nothing at all so they need something extra soft on their very delicate skin. Huggies knows how important it is to have a very soft product with extra cushioning layers that will draw the moisture away from the baby skin. I know a lot of generic diapers feel like dog pee pee pads instead of soft gentle fabric like Huggies.
Huggies
is always looking to make their product even better and they have recently added a gentle absorbing liner for cushiony protection. One of my husbands favorite features is the wetness indicator line. This wine starts off yellow and it turns blue when it's wet. It helps teach new parents when the diaper needs to be changed. My favorite feature is how deep of an umbilical cord cut out they have. For my daughter we used another brand of diapers at first and the diaper did not have the umbilical cord cut out. It ended up cutting off a part of her umbilical cord before it was fell off on it's own. It ended up bleeding a lot and we had to take her to the doctors to get it fixed. With baby D I refuse to use any other diaper and Huggies for this reason.
When you have a newborn the last thing you want to have to do is run out to the store to have to go buy more diapers. Thankfully target.com makes it easy to get those diapers that you need for your baby. Target always offers free shipping on all orders of $50 or more. They also have tons of deals on diapers like right now they offer a free $10 gift card when you purchase to select Huggies products.
"I participated in a campaign on behalf of Mom Central Consulting for Huggies and Target. I received samples and a promotional item to facilitate my review."