Since we moved in to the new house in May all the kids have been asking for is a trampoline and well I wanted one to but there is also the risk of the trampoline and Tom and I decided to wait till the kids are a bit older and hold off until next year when Alyssa will be 5 to add a trampoline to our out door fun, so when talking to Little Tikes they mentioned the Little Tikes JR Sports N' Slide Bouncer I was super excited because it was perfect! McKenzie is 9, Logan is 7 and Alyssa is 4 and all of them spent countless hours outside on the bouncer this summer. They have already told me they can not wait for the fall to get here, so they can have a pile of leaves at the bottom of the slide to slide into 🙂
The box arrived and I was shocked how small it was, which is actually great because you can shove it into the storage box and not have it take up a ton of space 🙂
I have to admit I am quite jealous of the kids and their bouncers, I am that adult who when at a kids party and someone has a bouncy house I am right there in the house bouncing around with the kids! I tried to sneak in the bouncer and Alyssa made sure I knew it was just for kids 😉 The age says for 3-8 but the max weight limit is 250 pounds so all 3 kids and myself could technically jump on it 😉 But I still have not swayed them to agree with me yet :/
The kids love being able to bounce in the bouncer and shoot some hoops too with the basketball that comes with it and the hoop that is attached to it!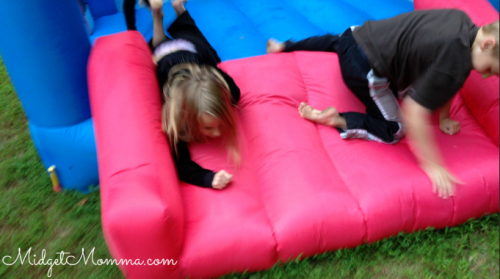 Set up is super easy, remove it from the box, put it in an area in your yard that has space, tie the air machine part to the bouncer and plug it in. It will inflate in just a few minutes and the kids will be ready to go! When you are done using it you just unplug it and it deflates quickly for you to store in the storage bag! There are 2 different parts to the bouncer, the bouncer itself and then the machine that makes it fill with air. Always unplug and deflate it before you separate them 🙂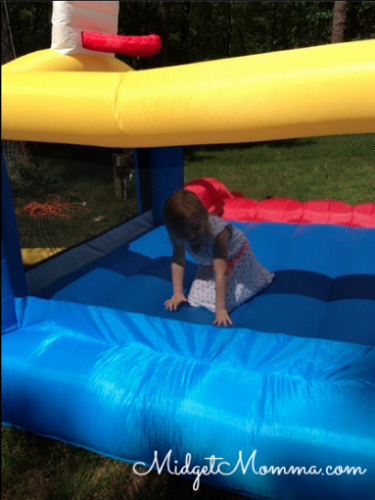 There are hours and hours of fun for the kids with this bouncer! It was the toy they played with the most this summer and what was great for Tom and I is that it wore the kids out, ok so that was a bonus but the laughs and giggles we heard coming from the backyard when they were bouncing were awesome 🙂 I know that summer time is just about over but this bouncer would be awesome to have the kids bounce in during the cool fall afternoons and nights and for those who don't live in areas where they get a ton of snow like we do this would be awesome for the kids to be active with outside all year long 🙂
Product features:
   • Large padded arena for fast and fun bouncer slide action
   • Large slide with side rails for added fun
   • Walls made of protective, durable, mesh netting
   • After inflation, blower must run continuously while children are playing
   • Bouncer must be firmly anchored in place 
   • Maximum number of kids: 3
   • Maximum combined weight limit: 250 lbs.
   • Accessories include: 
        * 1 – Storage bag
        * 1 – Repair kit 
        * 1 – Heavy-duty blower with GFCI plug 
        * 1 – Inflatable basketball 
        * 4 – Blower stakes
        * 6 – Bouncer stakes
 • 90 Day Limited Warranty from date of purchase on bouncer
• 1 year Limited Warranty from date of purchase on blower4
   • Refer to instruction booklet for set-up, storage, maintenance and care
• Designed for home outdoor use only 
Disclaimer: We received this product to facilitate our review. No compensation was received and all opinions are 100% my own
Join the newsletter
Subscribe to get our latest content by email.