Ok so I have some exciting news, this week I will be getting on a plane and flying from here (Pennsylvania) to California to get YOU the inside scoop on some fun stuff coming from Disney 🙂 Yes this means I am leaving Tom and the kids at home and Tom will be handling the deals for most of the week (so be patient with him 😉 and feel free to talk to him on the facebook page because I am sure he is going to need some adult interaction 😉 (or maybe he will enjoy the quiet at night when I am not here to bug him)
I will be tweeting and instagraming while there (so you don't miss a thing!) So follow me on Twitter and Instagram and the #VeryBadDayEvent, #DisneyInHomeEvent and #HalloweenTime hashtags 🙂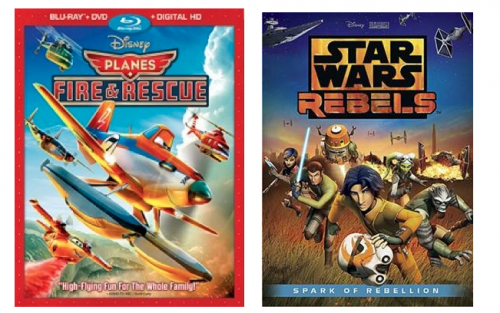 While there I will be getting the inside scoop on quite a few great things that I am super excited to share with you 🙂 You all know I am slightly addicted to finding out HOW movies are made, I love Disney movies but I can sit an listen to someone who was a part of the team and learn about how they did things for HOURS and I love being able to pass on that fun information to all of you 🙂
I will be getting information on the making of PLANES: FIRE AND RESCUE (which if you have not seen it yet, it comes to DVD soon and is a SUPER cute movie), I will be Screening ALEXANDER AND THE TERRIBLE, HORRIBLE, NO GOOD, VERY BAD DAY movie (which is one of my favorite books to read to the kids, so you will be getting the inside scoop on the movie 🙂 ),  I will be screening STAR WARS REBELS: SPARK OF REBELLION, so all of you Star Wars fans like my house will have the inside scoop on that awesomeness too! Plus we will be learning about the making of SLEEPING BEAUTY and MALEFICENT. 
And since I will be in the area of one of my favorite Disney Stores be on the look out for a fun giveaway when I get home 🙂 I will be picking up some goodies to do a giveaway with for you guys so I can spread the Disney love that I know you all share with me 🙂
Disclaimer: Thank you to Disney for inviting me on this trip and covering my expenses so I can share the awesomeness with my readers. No compensation is received and all opinions are 100% my own.