It has been go go go here in our house all summer long, July was packed with the family reunion, a few local trips and a a few work trips. Relaxing was something that was not always possible but was needed. One of the the things that we love to do to spend time together and relax a bit is have family movie nights. We all get in our pjs, I make some homemade popcorn and we all sit on the couch together to enjoy a movie.
This weekend we needed a relaxing hang out time with the kids when Tom and I got back from our trip to Mount Airy but I had not bought any new movies for us to watch. By the time we were getting ready to sit down for a movie I also realized that we did not have a new movie for us to watch. We do have a cabinet filled with our favorite movies but we were all wanting to watch a new one.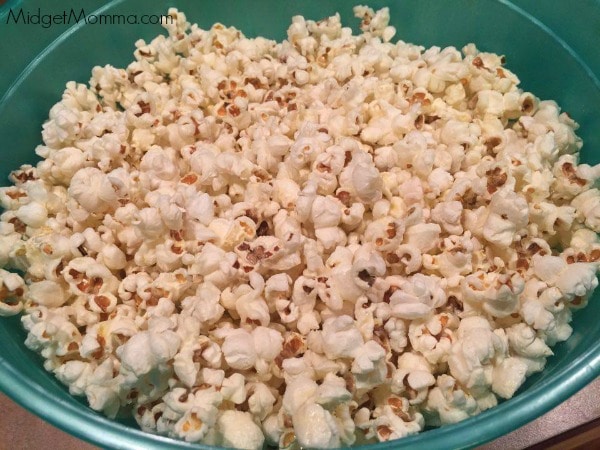 I always have popcorn on hand – since I pop it on the stove so all we need was to get in our pjs and then get a movie. Of course after all the running around neither Tom nor I wanted to run out to the store to get one because no on wanted to leave the house again.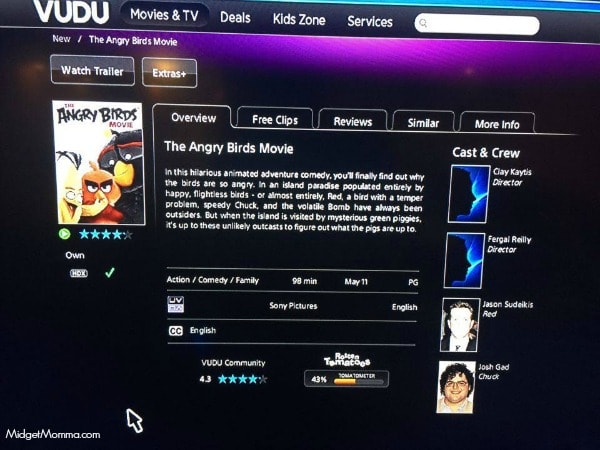 VUDU came to the rescue for us! If you have not heard about VUDU, it is instant, on-demand streaming of your movies and TV with no membership needed. There are no fees or subscriptions, you just pay for what you want when you want it. You can opt to buy a movie or rent the movie with out having to leave the house. Perfect for family movie night when you are planning it last minute.
The movie of choice was the new Angry Birds Movie, which the PS4 has an app on it that lets you use VUDU! If your PS4 doesn't have it then you can download it for FREE from the PlayStation Store, then you can just log in to your VUDU account and watch your movie!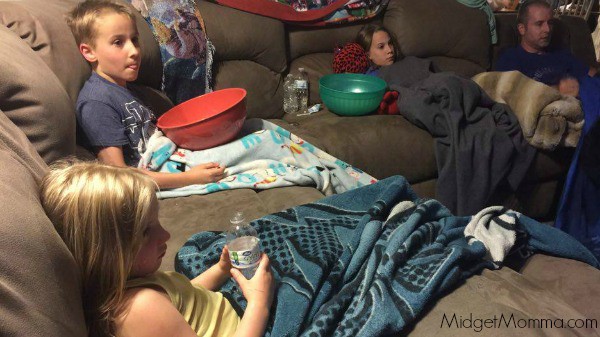 While I was scrolling thru VUDU looking for the new Angry Birds movie I also noticed that VUDU also connects into Disney Movies Anywhere so all the movies we have stored there already we can stream on to the tv too from the PS4!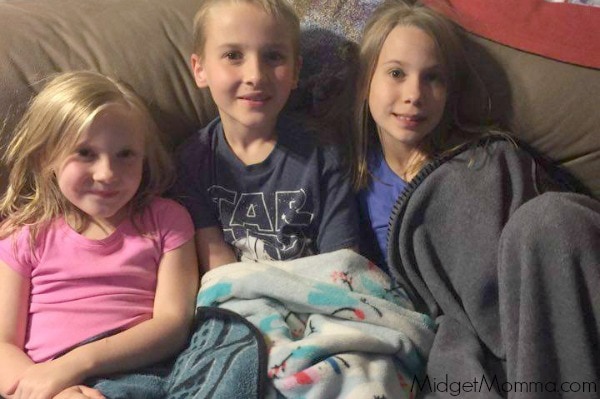 About VUDU:
VUDU is a service that lets you stream full-length movies and shows over the Internet to television and mobile devices. Through VUDU, you can rent or buy HD movies and TV shows to watch on-demand. Compatible devices include:
Most smart TVs and Blu-ray players
Android and iOS devices
Gaming consoles – Xbox, Playstation
Streaming devices – Roku, Chromecast, NeoTV
Plus I also have a FUN giveaway for you all!! One MidgetMomma Reader is going to win an 8 pack of free movie downloads and an Angry Birds Plush toy gift set, sold exclusively through Walmart!!!
How to Enter:
Leave a separate comment for each entry.
Mandatory Entries:
Leave a comment telling me how you do family movie night at your house.
Sign up for my daily newsletter here  so you never miss anything
Extra Entries:
Follow me on Pinterest – 1 entry
Follow me on YouTube – 1 entry
Follow Me on Instagram – 1 entry
Tweet – I want to win a @Vudu Movies Prize Pack from @midgetmomma1200 – 5 entries per day, entries must be 2 hours apart
Make me your Personal Shopper (100% FREE and I can help you save even more money) – 1 entry
Follow MidgetMomma on Twitter  – 1 entry
Follow MidgetMomma on Periscope – 1 entry
Follow Tom on Instagram – 1 entry
Follow Tom on Periscope – 1 entry
Follow Tom on Twitter – 1 entry
Giveaway Rules:
No purchase necessary to enter, leave a separate comment for each entry method. This giveaway is not associated with any of the entry methods. This giveaway will run till 11:59 PM EST August 18, 2016. The winner(s) will be picked using And the winner is (a random winner picker) and will be announced in a new blog post. Giveaway is open to US residents who are 18 years or older. By entering this giveaway you are giving consent to be added to the MidgetMomma daily newsletter. Winner will be contacted and have 48 hours to reply to contact e-mail or the prize is forfeited. Open to US mailing addresses only. 
This post may contain affiliate links. Please read my disclosure policy here
Disclaimer: This post is sponsored by VUDU. All opinions are 100% my own.