I did not want to post anything about this until I saw it myself to see what I think would be worth buying because I was not sure what type of stuff it would be and the quality. And I am glad I did before writing this.
Missoni is a designer brand that for you and I will break the bank(especially when dresses start at $500 and even with the 3% cashback you could get if you used ShopAtHome.com  when shopping at it Neiman Marcus  you are still paying $485). Not all of their things are my style, like the dresses I wouldn't wear them, but the shoes would be adorable with jeans and a shirt. I do however really like the look of their home goods, like the pillows, vases and shower curtains but the price tag that comes with it is never going to be in my budget.
So when Target released the Missoni For Target Line I wanted to check it out, of course non of us could yesterday because the site was so swamped it was down. I was considereing going to Target to check it out, but with it being compared to Black Friday I stayed home (Don't get me wrong I LOVE Black Friday, but when I go shopping then I know exactly what I want, with this I just knew somethings looked like I would want them but I didn't know what exactly the quality would be. I am very happy that when browsing online I did not get the dishes I considered getting (they were black and white and would have looked great in my black, red & white kitchen) because once I got to Target today I found out that they were plastic. I don't like plastic plates as my dinner plates.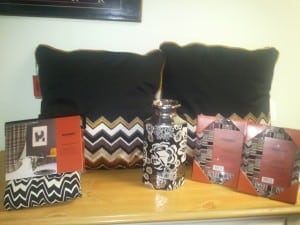 I did buy a few things, but one thing to remember with special promos and events like this is only buy it if you have a need for it and space to put it where it will be used for what it is intended too, you don't want to clutter your house. I bought 2 Pillows that will be used on the couch (we are  hoping to move again soon and will need to buy a couch and know we are buying a brown couch so they will match great), 1 Vase it is black and white to go on the Kitchen Counter, a shower curtain (which we actually need need) and 2 picture frames.
Now this trip for me was a HUGE Splurge trip money wise, not my normal type of shopping because I actually paid (GASP) Retail price for everything. I would not have been able to if it was not for the savings we have that is put aside just for these types of purchases. I stuck to my budget and actually I spent $40 less then my budget 🙂 That is how we make sure we do not over spend and we only use cash for these types of purchases. Would I normally not look for a deal no, but once in a while it is relaxing to go and just get a few things just because and with the use of coupons and being frugal in other ways I am able to do so.
Did you go to Target or Target.com and get in on this special sale? Do you spurge the same way we do? What is your favorite thing to splurge on?
This post may contain affiliate links. Please read my disclosure policy here