Are you looking for a way to make some extra cash? I have a great option for you! And even better you are able to make it on YOUR Schedule! Uber is currently looking for new drivers!! I have never driven for them – however I have taken MANY Uber rides when I have been traveling and I know a few family members and friends who are Uber drivers. Everyone that I know who is an Uber driver says the money they earn is great and that they enjoy doing it. Everyone I know that drives for Uber has told me that they make $18-$25 an hour!! That is an AWESOME amount to make driving around!!
My cousin and a few of my friends are Uber drivers, and all of them have nothing but good things to say about being an Uber drive and the money that they make from it. So I thought it would be a great thing to share with all of you guys who are looking for options in making more money 🙂
How to Make Money on YOUR Schedule with Uber
What do you need to be an Uber Driver:
You don't need much to get started as an Uber driver!
Be 21 years or older.
Semi Newer car
drivers licence
clean driving record
Proof of vehicle registration
Proof of vehicle insurance
Smartphone (so you can access the app and get riders)
car insurance

How to get Started Driving for Uber
Driving with Uber is easy to get started doing. Head on over here and sign up. Then once you get approved you are able to start driving and making money!!! You are able to pick and choose when you want to drive and earn money. You can drive and earn as much as you want. And, the more you drive, the more you'll make. Plus, you'll get paid weekly and your fares get automatically deposited.
Once you are approved you will download the app to your smart phone.
How to take rider and make money with Uber
Then when you are ready to take rides you just open the app and tap Go Online, this lets people know they can get a ride with you.
Once online, you'll automatically begin to receive trip requests in your area. Your phone will beep and the screen will flash—tap to accept.
The app provides navigation to your rider's pickup location, and we'll let them know when you're almost there. Once the trip has begun, you'll get directions to their destination.
After every trip, you'll see exactly how much you earned and comprehensive summaries of your day's total
How do you get Paid with Uber
Earnings are automatically transfer to your bank account every week. You also have the option to cash out instantly up to 5 times a day.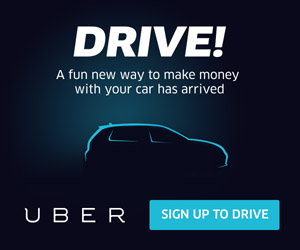 When you are a driver for Uber you as the driver keep 75% of the fare and Uber gets 25%. The fare is calculated at a per mile rate and then a rider fee. During busier times the cost per miles goes up – so it is suggested to be "on" during the busy times so you make even more!
The time frames that I was told are the best for making more money are:
Mon-Thurs mornings
Friday evening
All day Saturday
Sunday morning/afternoon
Discounts for being an Uber Driver:
There are also discounts you will get for being an Uber driver!
15-18% off your AT&T, Sprint, and Verizon monthly bill. And that savings can be extended to your immediate family.
Fuel card program gives qualifying driver-partners deep discounts at the pump. And if you need new tires or a routine oil change, get up to 15% off at Auto-Zone, Firestone, Maaco, Meineke, Midas, Jiffy Lube, and Valvoline.
and more!
If you are looking for a way to make money on YOUR schedule and when you have time to do it, check out Uber. It is easy to get started.
Depending on where you live Uber Eats (the food delivery service) is also looking for drivers!