With all the family trips we are taking I want the kids to be able to make a collection for themselves of memories they make while we have fun. My kids love to collect the smashed pennies and things like postcards from places we go to visit. They have been kept in a drawer but now that the kids are getting a bit older they want to be able to have their own place for their souvenirs.
So we made memory Boxes for them to keep all their memories in. They are so simple and easy to make and the kids can be creative and make them look however they want!I went to Walmart to get the supplies we did not already have, and was happy to find boxes on an end cap that were on clearance! The kids are so excited for me to pull out all their souvenirs from other trips we have taken and put them in their boxes!
What you need: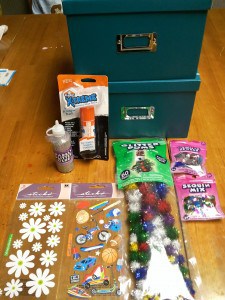 A box (any box with a lid will do even a shoe box but I would suggest covering it with solid paper first if you are using a shoe box)
Glue We used X-TREME Elmer's glue!
Things to decorate with like stickers, pom poms, jewels ect
Marker or Glitter glue to write your child's name on the top
Letting your kids be involved and able to help pick out things to decorate their boxes is a great way to help get them involved with the planning part of this project.
How To:
Write your child's name on the top of the box, or let them if they can (we did this with Glitter Glue)
Get the supplies ready for the kiddos
Let them decorate and be creative
Let them dry
My kids loved this! Here are our finished Memory Boxes
Front View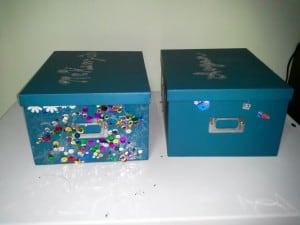 One Side View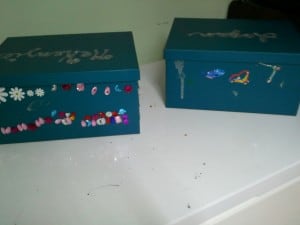 As you can see my son loved using the stickers and my daughter loved gluing jems and sequins on her box. They loved doing this and being creative. My kids both think differently so finding things they both can do and both be creative in how they do it are great craft projects for us!
Disclaimer:This post has been compensated by #Collectivebais as a part of craft recipe project using Elmer's. All opinions are my own.