If you are looking for easy ways to save money then you are in luck! There are lots of ways that you can save big, but today I am sharing my 25 top ways to save money!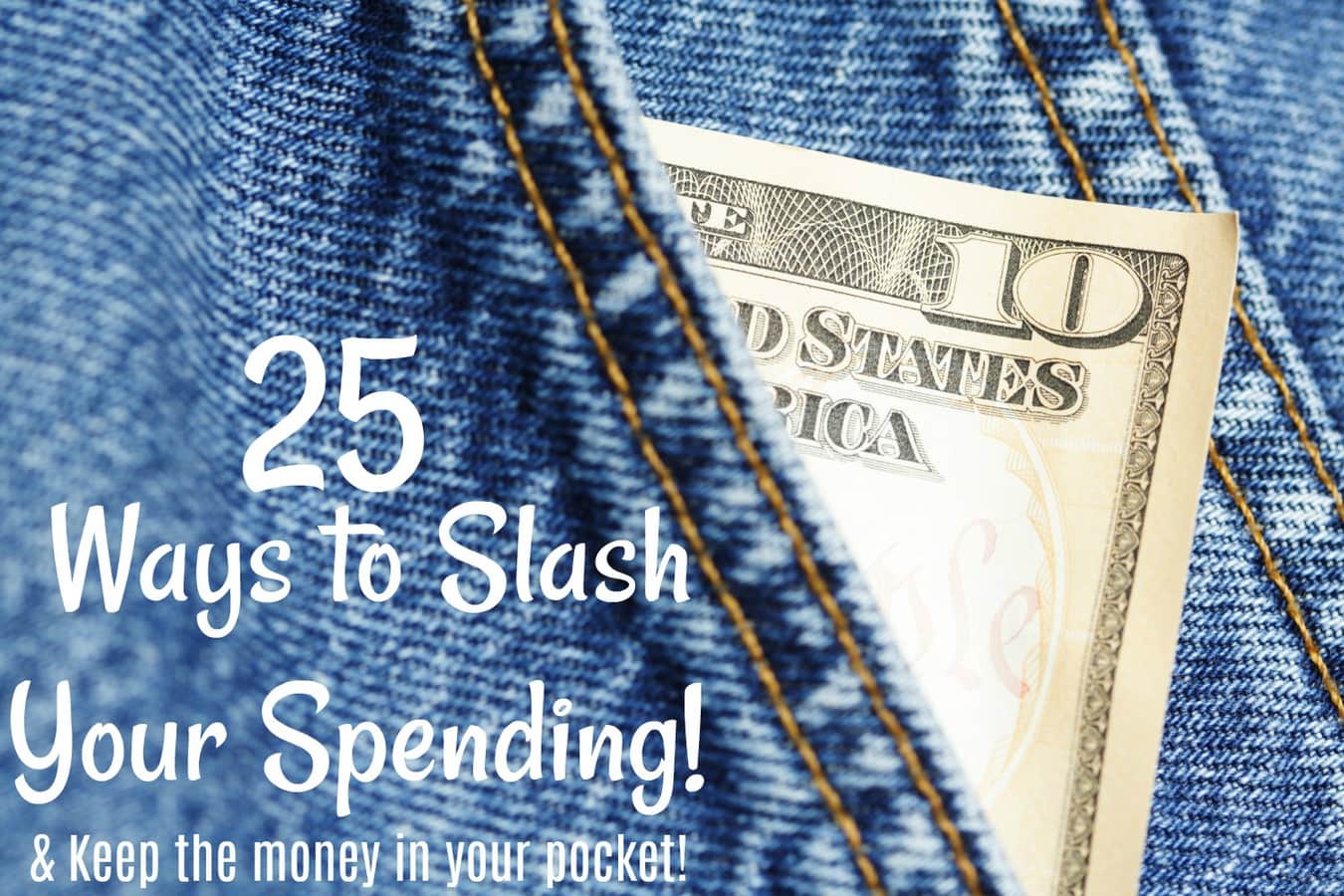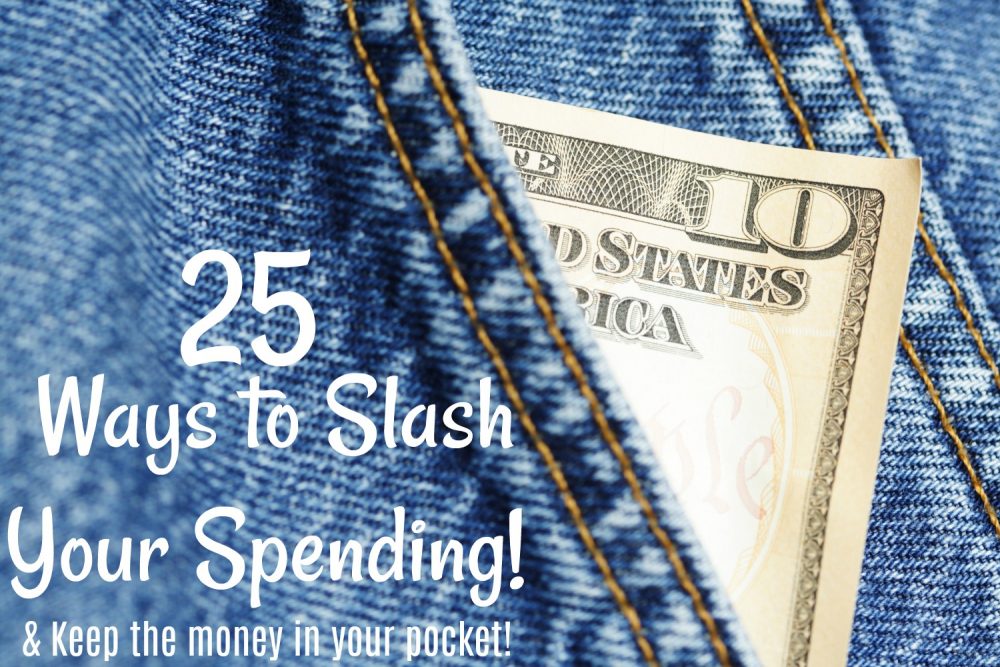 Easy Ways to Save Money
One of the best things you can do to help manage your budget is simply to spend less. Cutting down expenses can seem daunting – when you look at your expenditures it may seem like all of them are necessary although be sure you are not forgetting things that belong in your budget. However, when you start to break down needs versus wants, you can often easily find ways to make cuts.
My personal favorite way to save money is simply to conserve. It's easier to afford brunch with friends if I'm not forking over so much for the electric bill, for example. Take advantage of as many of these tips as you can to help your family decreases expenses and tighten up the belt. I wonder how many you'll miss once you get used to it. Challenge yourself and your family!
My Biggest tip of all is to learn how to not live above your means, however sometimes we may look at our bills and expenses and see that they are above our means and we are not having money left over to build a savings account like we want to. I personally like using the 52 Week Money Saving Challenge, as it helps me stay on track. Having a savings account is very important, it helps be sure you don't need to go into debt when something comes up. If you are working on building your savings be sure to check out Why you need a savings account and tips for putting more money in your savings account.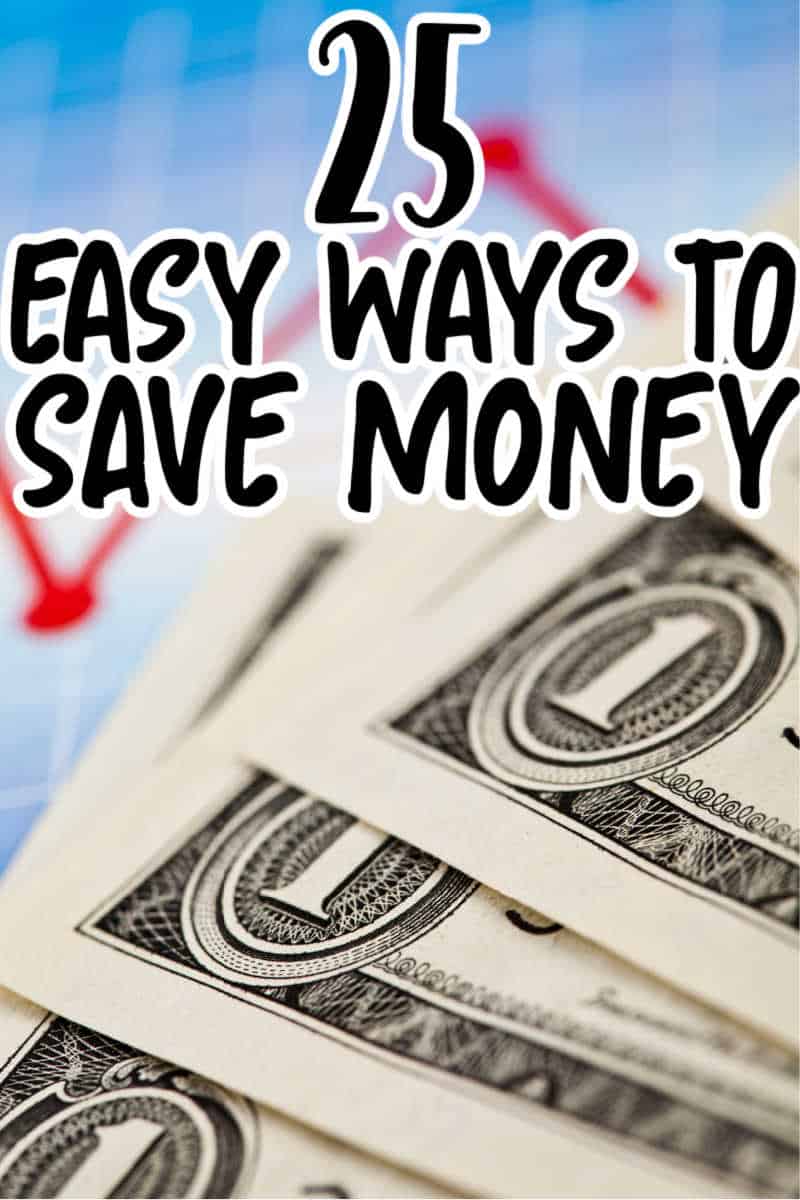 Ways to Save Money at Home
Tend your own lawn.  
Are you paying someone to manage your landscaping? Eliminating this expense will give you the opportunity to get some fresh air and exercise. Your yard will look even better when you know you've done it yourself.
Change your cell phone plan.  
If you've had your plan or carrier for several of years, start shopping around. There are several pre-paid carriers that offer the same or better service plans for half the cost of the national carriers. Unlocked phones for these carriers are also substantially less expensive if you don't mind giving up the big-name brand phones.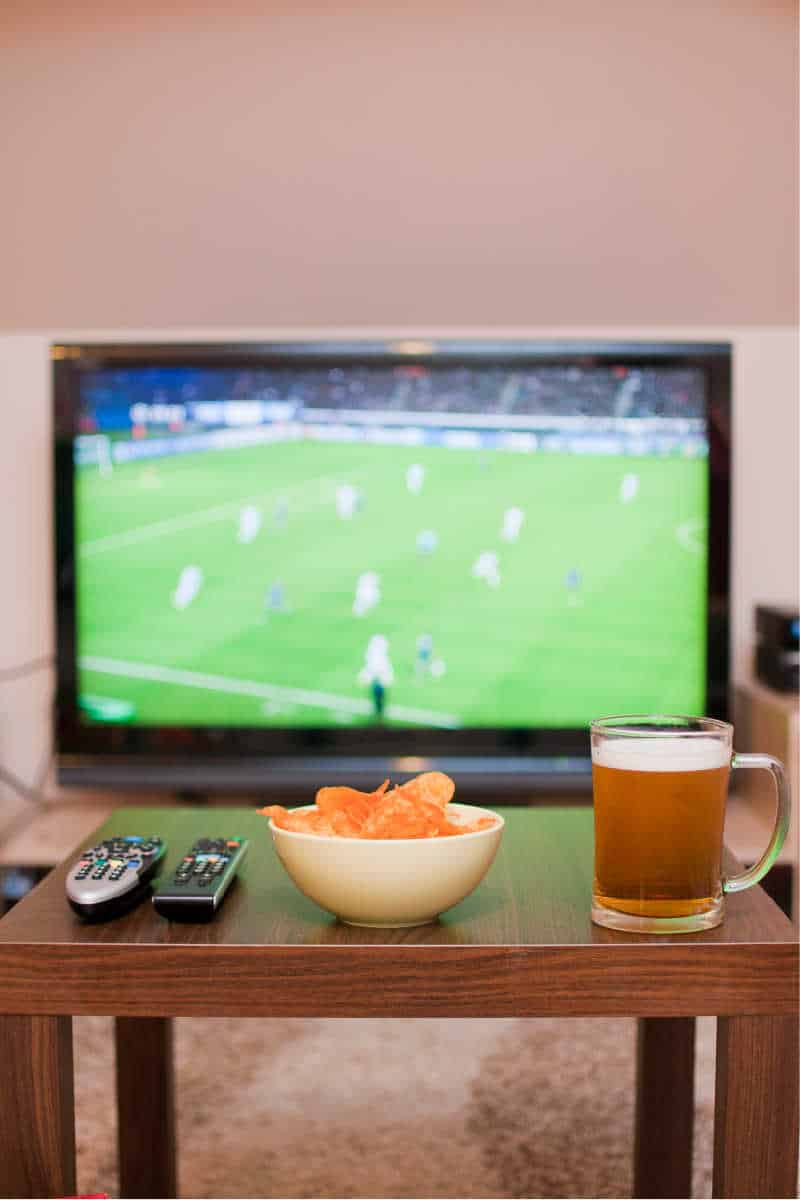 Ways to Save Money on the Extras
Cut the cord.  
Don't pay another overpriced cable bill. Take advantage of streaming services or invest in a TIVO so you can still DVR your favorite air broadcast programming. Find out how you can save a lot of money by getting rid of cable! 
Rent things you don't use often. If sharing isn't an option, check out your local rental center or home improvement store. You'd be amazed at the wide variety of things you can rent – especially lawn equipment and infrequently used tools. With a plan to finish the work in a day or two, you'll save considerably over buying something yourself.
Share with your neighbors. Does everyone on your block need a snow blower? Could you share a lawnmower with your next-door neighbor? If you're friendly with your neighbors, consider working out a sharing or renting plan to save on costs of infrequently used tools or equipment. For example, a lawn spreader is used only a few times a year and could easily be shared by several families.
Less expensive childcare options.
Prices and quality of childcare facilities vary widely. While you would never compromise quality or safety for your child, a more expensive facility does not necessarily mean it is safer or better than another.
Purchase less.  
One of the best things you can do to save money is to stop spending it. Do you need that morning latte? Can you wear your clothes longer? Stretch your haircuts out? Narrow down your collection of hair and beauty products? Everything you don't bring into your home should be celebrated like savings.
Stop smoking.  
It's bad for your health, and it's incredibly costly. This goes for vapor too!
Use public transportation. 
Even if you can't use it for all trips, investing in public transportation can not only save you gas and other expenses but also cuts carbon emissions. Kids love the novelty of riding the bus!
Inflate your tires.  
You can improve your mileage considerably simply by ensuring your tires are properly inflated. Check the recommended pressure on the tire sidewall and keep those babies pumped up!
Cook at home.  
Eating out is one of the biggest unnecessary expenses families have. Even cutting out one dinner out a week can save hundreds over the month. Try new recipes, get your kids involved, and have fun! Need new recipes? Here are over 600 AMAZINGLY Tasty Recipes. Plus this facebook page shares recipes every day!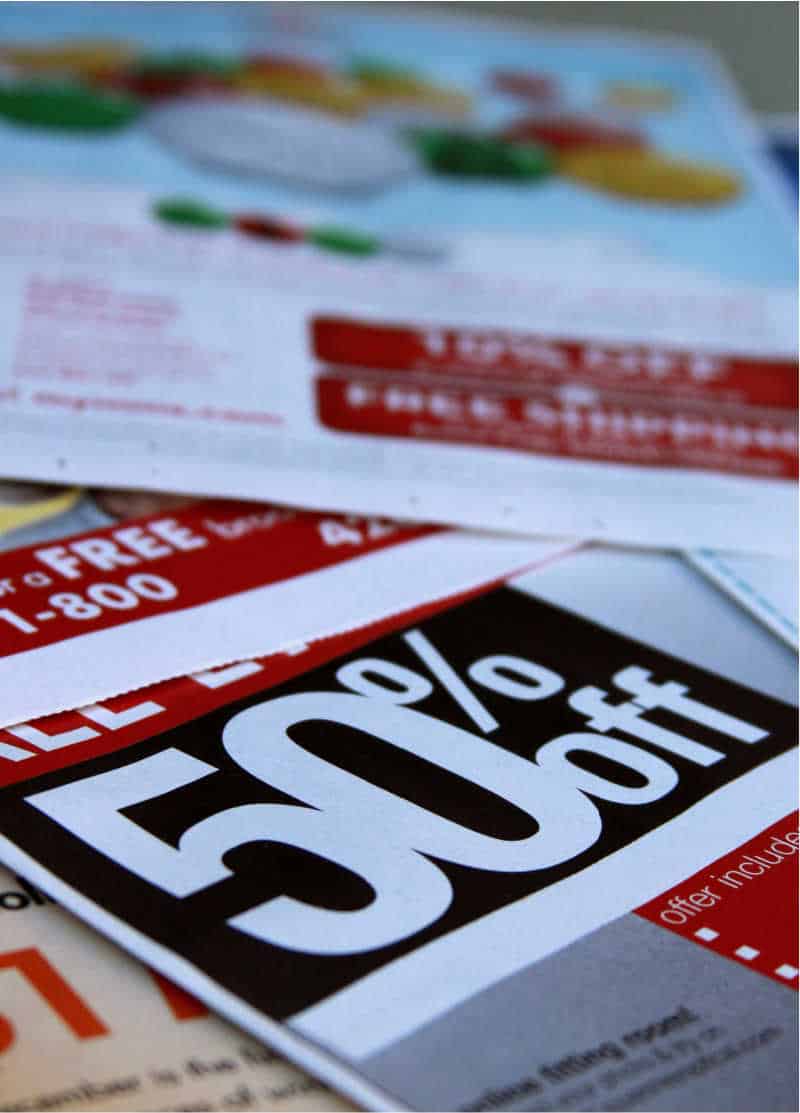 Way to Save Money When Shopping
Use a loyalty program.
If your grocery or other stores offer loyalty cards, sign up! These programs can save you on purchases, push coupons for products you buy regularly, and even save you at partner companies such as gas stations.
Use coupons.  
You don't necessarily have to be an extreme couponer to make this work – most stores you shop regularly will give you coupons for products you already buy. All you have to do is remember to bring them when you shop! There is a TON of information on how to use coupons to save money. 
Pick up your groceries.  
Especially when shopping for a big event, I always use grocery pick-up services. This saves tons of time, but also, keeps things not on my list from sneaking into my cart. Some stores charge a small fee for these services, so keep your pickup trips to large hauls.
Buy in bulk.
Buying in bulk can yield considerable savings – so long as it is something you use regularly, can use before the expiration date, and you have room to store it. Always check the per unit cost when buying toilet paper and paper towels – bigger packages usually mean bigger savings.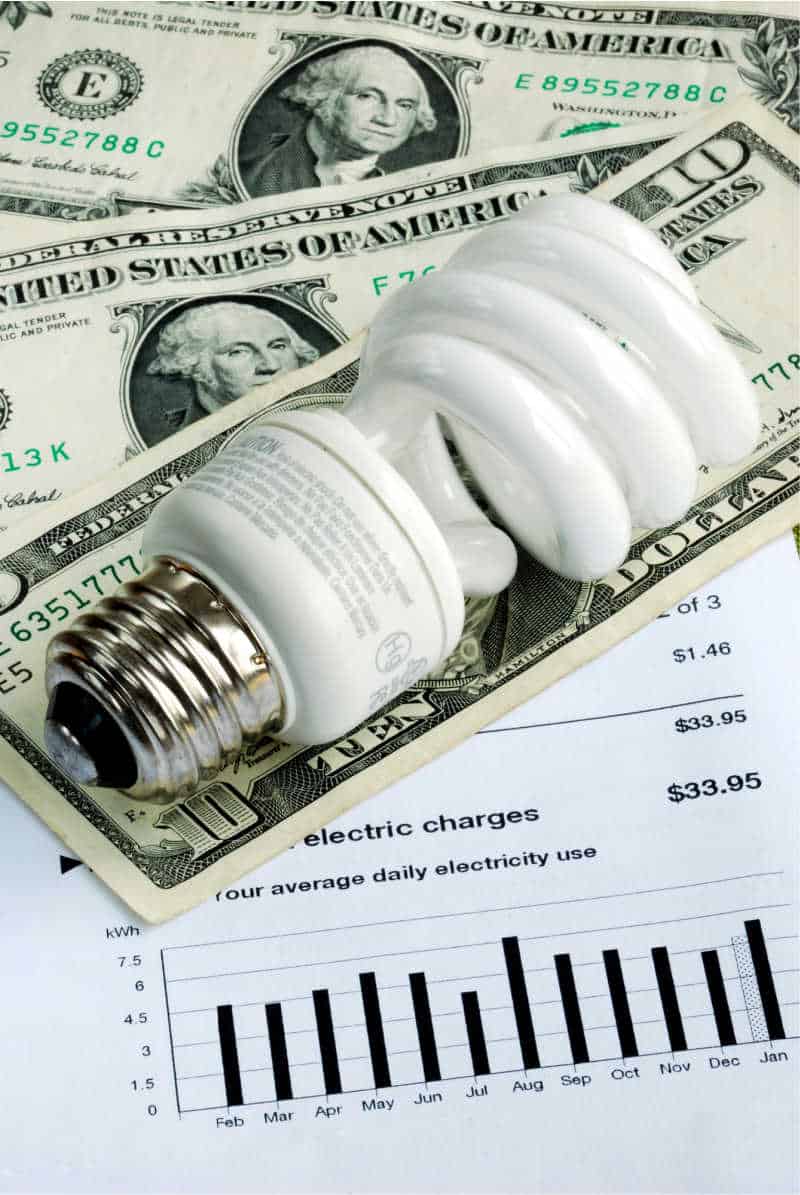 How to Save Money on Utilities
There are lots of ways to save money on your utilities, be sure to check out all of our tips for saving money on electric.
Turn off the lights.  
Your mom's been reminding you of this one since you were a kid. Turn off the lights and any unused electronics when you're finished. Consider switching to more energy efficient light bulbs and unplugging unused electronics to save on your electricity.
Adjust the thermostat.  
For the most part, your family won't notice if you play with the thermostat a degree or two in the summer or winter, but you can save a bundle on your heating and cooling costs. Open blinds and shades in winter to let the sunshine warm your house and keep them tightly closed in the summer to keep the heat out. You could also consider a programmable thermostat that automatically adjusts based on a schedule. Just be sure the costs of the thermostat are recoverable in the short-term.
Fix leaky toilets and faucets.  
Every extra flush and drip costs you on your water bill. Use YouTube videos or instructions online to tackle small problems or bring in a plumber.
Take shorter showers.  
A long, hot shower can be amazingly relaxing, but your utility bills may tense you up again. Every minute you shave off your shower can save gallons of water – consider if everyone in your family did the same!
Insulate and fix drafts.  
Making your home more energy efficient will save you in the long run. If you can't afford to say, replace windows, consider adding DIY draft guards to leaky windows or using window/door insulator kits to keep costs under control.
Use cold water in the washer.  
Unless your load is particularly dirty, it will come just as clean in cold water – you'll save money, and your clothes will look better for longer too.
Run the dishwasher only when full.  
It may seem like a no-brainer but don't turn on your dishwasher till both racks are full. Not only is detergent expensive, but running full loads makes better use of the water used to wash.

Ways to Save Money on Bills
Be sure to also check out our tips on calling companies to get your monthly bills lowered.
Take advantage of balance transfers.  
If you're carrying credit card debt, don't overlook those balance transfer options. They can give you a cash boost that allows you to get ahead of your payments and pay down the balance faster.
Shop insurance rates.
Comparing insurances rates can be painful, but if you haven't done it in a while, you could be missing out on a cost reduction. Review health plans during open enrollment, compare car insurance policies online, and call about homeowners or rental insurance switches to see if you could save.
Turn on automatic payments.  
You may not know, but several different loan companies and other utilities offer a bonus for enrolling in automatic payments. Even a small reduction in your interest rate can save you considerably over the course of your loan.
More Ways to Save Money