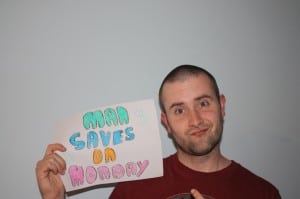 When my wife started using coupons hardcore in December of 2008, I was skeptical and thought it was pretty dumb, even though she had used them when she went grocery shopping before she went to using them hardcore. As a family we were not in the best place financially but we were not struggling with money so I thought it was a true waste of time to sit there and clip coupons and plan out shopping trips. As time went on I started to see the money that we were saving and more things that we could do as a family and better food we were able to eat. I am going to be honest for the firsts 6 months it takes time to adjust to your other half taking so much time clipping the coupons, organizing the coupons and going shopping when shopping trips before were easy go and buy what you want trips. It takes time for them to learn what they are doing and how it best works for them and your family. After the initial period you can look around and clearly see the benefits of couponing. You have more money to spend on the fun purchases even I have gotten the coupon bug. I used to have a problem taking coupons to a store because I felt like I was making the cashier have to do more work and giving them a hassle by using them and giving off the impression that I was poor. But now that my wife has shown me the benefits of couponing and I can see them for myself I no longer feel that way. It now feels quite good to go into the store and save a bundle of money. Plus by using coupons I can buy more of the products that I enjoy with out feeling like I am putting a strain on my family's budget.
So if you view using coupons the same way that I used to, i urge you to open your mind to the idea of using coupons. Now as I know the first initial few months can be stressful with new adjustments but I urge you to help out any way you can. Buy her papers, Clip the coupons, help them arrange the shopping trips, go with her on a few so they can show you how to do it so you can then later do shopping trips as well. Now I am not saying go on the huge trips with tons of coupons, but the little ones to CVS, Rite Aid ect. that are smaller and easier to do. Skeptics can become believers and if you are like me you too will believe.
How do you feel about using coupons?
If you have any topics that you would like to see discussed on future Man Saves Monday posts don't hesitate to e-mail me at thomas at midgetmomma dot com
This post may contain affiliate links. Please read my disclosure policy here