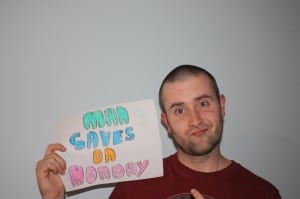 Well it is not Monday, and I am a day late but Men still need to save!
Make a romantic date night at home, it is a great way to have a happy wife and save a ton of money.  Go to the store and get your favorite meal, steak and shrimp is what we would probably be having here which is much cheaper then buying it at the store. Rent a movie from netflix or redbox, and grab some popcorn.
Make dinner for the kiddos and after they are in bed you can make dinner together, and enjoy each other. Then sit down and watch your movie. Its the samething as dinner and a movie out but a whole lot cheaper!
This post may contain affiliate links. Please read my disclosure policy here