If you are looking for a minivan that is not a "minivan" and is smaller then a minivan then the Mazda 5 is a car you should check out. I was recently loaned the Mazda 5 to give it a spin for a few days and my first thought when I saw it "it's a mini minivan" and it was cute too!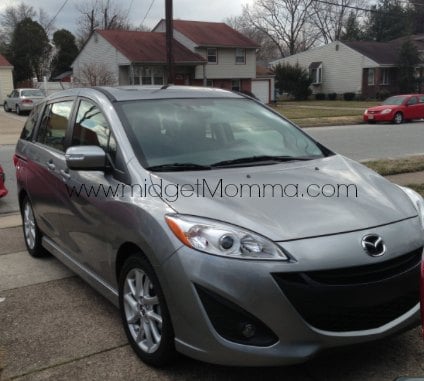 The look of the car is a mix between sporty and mini van, which I really liked. When driving the car it feels like you are driving a car not a mini van, which is great for those who need the seating but don't want to drive a minivan.
With 3 rows of seats it fits 6 people with ease including the three car seats we have. We don't have small car seats either, we have a Britax Frontier, a Britax Marathon and a Diono. The leg room was a bit cramped for the 2 kids in the back seat because of the carseats, but when I sat in the back I had ample leg room (however keep in mind that I am 4 foot 10 1/4 inches tall so I do have leg room in just about every car I sit in). The seats fit easily in the car, I did not have to mess around trying to figure out the best combination of placement for the seats and they all fit in the car on my first try.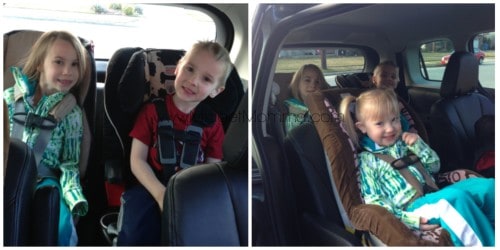 The space in the trunk was not to bad, there is plenty of room for a trip to the grocery store. However it is not enough room for my family when I have everyone in the car and the car seats, and we are going on a short weekend trip. I would not be able to fit the luggage, and the stroller in the back along with all the toys and other things the kiddos bring with them when we go place. If you are only using the middle row and will be putting the back seat down you will have plenty of room then you will have ample room when traveling.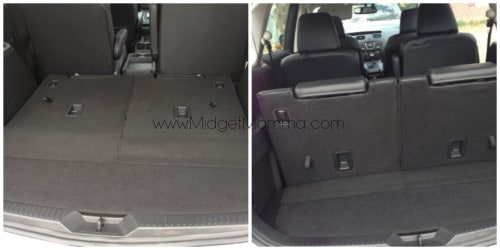 The steering wheel, shifter, and dashboard were all sleek, modern and stylish. They looked great compared to the Silver color of the car.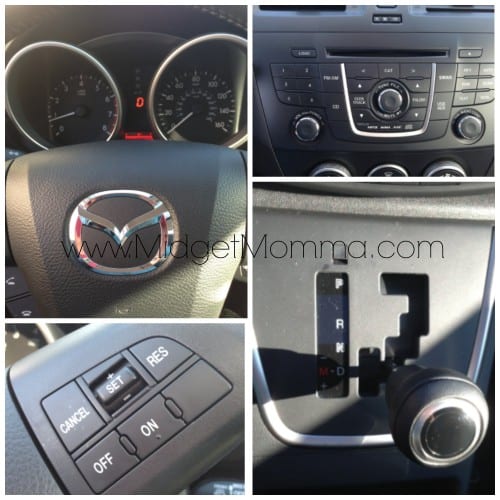 In the leather seats they had a red thread which added a nice touch that I enjoyed. I was a bit surprised that being a new car it did not have a navigation system or a back up camera, which is something that I really like when it comes to new cars. It did have my kiddos favorite feature in a car – the sun/moonroof! They did include one of my favorite features of cars as well, heated seats!! (I don't know exactly what I love about them other then they make a car super comfy on the cold days).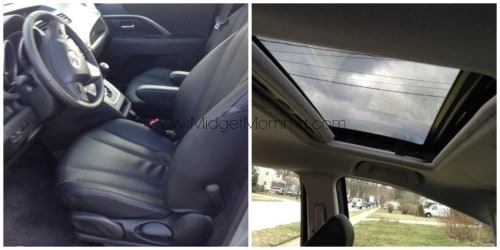 Overall I enjoyed driving the Mazda 5 even thought it is not a perfect fit for my household it is a car that would consider when our kids are out of car seats.
Information about the Mazda 5
24 miles per gallon highway, 22 miles per gallon city

Front wheel drive
Powerheated mirrors
6 passenger seating
2nd row captains chairs and under seat storage
2nd row fold out table with storage
50/50 split fold down seat in 3rd rown
heated front seats
Bluetooth handsfree phone and audio
climate control
power windows and doors
remote keyless entry
three row side impact curtains
Disclosure: I was provided a loaner vehicle for a few days to facilitate my review. No compensation was received and all opinions are 100% my own.
This post may contain affiliate links. Please read my disclosure policy here