If you are looking for a movie that will make a great family movie then look no further then McFarland USA. Now at first glance this movie does not seem like it is going to be interesting, honestly when I told the kids we were watching it the first thing McKenzie said to me was "Really, I read the back that sounds boring and I don't like running". Her tune changed about 20 minutes into the movie and she commented to make sure that I knew it.
McFarland, USA is inspired by a 1987 true story, in which an unlikely band of inexperienced, under-equipped, young Latino runners with exceptional determination rise to become cross-country state champions under the leadership of their coach, Jim White.
When the White family moves to a small town in the middle of nowhere that is 100% the opposite of where they were living life gives them some unexpected changes and feelings. While the dad has taken this new job because he had issues at his previous job and this was the only job he could get, his plan was to "deal with this one until something better came along". Surprisingly when that something better came along his choices are not what you expect and are extremely heart warming. It is a great movie that shows just because you do not have an expectation of greatness when life changes you never know what you are going to get, who you are going to meet or how your heart is going to take it.
There are some quite funny moments in this movie, along with some very heartwarming moments as well. It was a little slow going, and as I said McKenzie had no interest in watching it after reading the back but after it started changed her tune. After the movie all of the kids said that it was a good movie and that it is a movie to have on family movie night, but that some parts were a little boring for them but the boring parts didn't last long and there was more better parts then boring in the movie.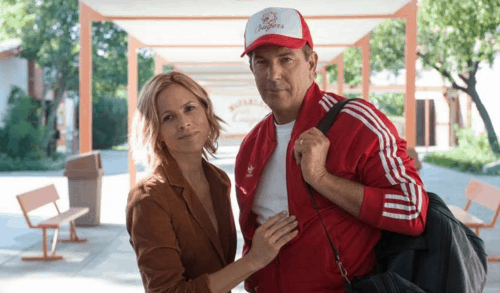 Fun Facts about McFarland USA Movie
A number of the original runners on the championship 1987 cross-country team became educators in the McFarland school district. The former teammates are not only working in their hometown, but also raising their families there and actively supporting the cross-country teams of today by coaching, helping out with the meets and practices and donating goods or money so the teams have what they need.
Three out of the seven young actors on the team in the movie are from the McFarland area—Sergio Avelar who plays Victor Puentes and Michael Aguero, cast as Damacio Diaz, are actual runners and Ramiro Rodriguez, as Danny Diaz, was a champion soccer player.
Ramiro Rodriguez had no intention of auditioning when he agreed to drive his cousin to the casting tryouts for "McFarland, USA." He landed the role of Danny Diaz after being pestered repeatedly by executive producer Mario Iscovich to audition.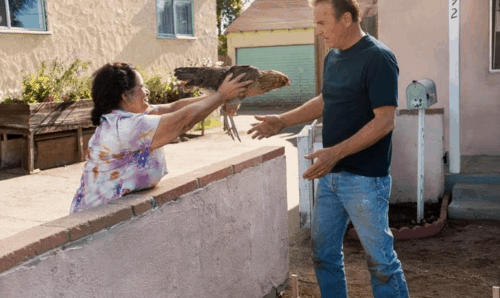 Coach Jim White is retired now, but if you go to McFarland, chances are you will see him out there on his bike, keeping up with the kids every evening with a lot of his original team running alongside as well. White retired in 2002 after teaching in McFarland schools for 40 years and coaching for 25 years.
Kevin Costner, who plays Coach White, was a great hit with the young actors. He quietly mentored them and offered advice if they wanted it but for the boys, listening to Costner's stories and watching movies with him in his trailer was a highlight. They felt so comfortable with the famous movie star that they even nicknamed him "KC."
Like the real McFarland team, all seven young actors had to train to become champion runners. Although some had more track and field experience than others, all of them took their drills very seriously. Mark Ellis, the coach hired to train them for the film, would have it no other way and the team evolved over time. But training them wasn't as simple as merely putting shoes on their feet. Every morning at 8 a.m. the runners showed up for practice, which was literally running and more running to build up endurance.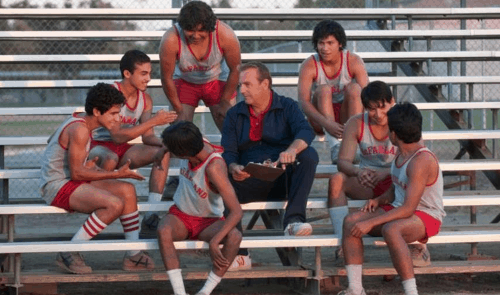 SYNOPSIS:                     
In the tradition of Disney sports movies comes "McFarland, USA" based on a true story of underdogs triumphing over tremendous obstacles. This heartwarming drama follows novice runners who strive to build a cross-country team under Coach Jim White (Kevin Costner) in their predominantly Latino high school. Everyone has a lot to learn about each other, but when Coach realizes the boys' exceptional running ability, things change. Beyond their talent, it's the power of family, commitment to each other and work ethic that transform them into champions — helping them achieve their own American dream.
CAST:                        
Kevin Costner ("Dances with Wolves," "The Untouchables"), Maria Bello ("A History of Violence," "Prisoners"), Carlos Pratts ("Paranormal Activity: The Marked Ones," "Out of the Fire"), Morgan Saylor (TV's "Homeland," "Cirque du Freak: The Vampire's Assistant"
You can purchase this DVD on Amazon here
Disclaimer: This product was sent to us to review. No compensation was received and all opinions are 100% my own.
This post may contain affiliate links. Please read my disclosure policy here