I had the opportunity to review a few of Medela's newest, quick-clean products for breastfeeding Moms. I am exclusively nursing my five-month-old son, and thanks to oversupply issues, I have also been able to pump nearly 100 ounces to donate to a friend and soon-to-be new Mom. I currently pump using a Medela Pump In Style and have long trusted the Medela brand.
Over the Christmas break, our family of six moved from Florida to Texas while making several stop to visit with family and friends along the way. In total, we were on the road for 21 days with twin six year olds, a two year old, and a five month old. This was the perfect time to review Medela's quick-clean wipes. Much like baby wipes, the wipes come in a re-sealable plastic case. With these wipes, you can clean and sanitize breast pump supplies, pacifiers, bottles, and even baby toys without access to water!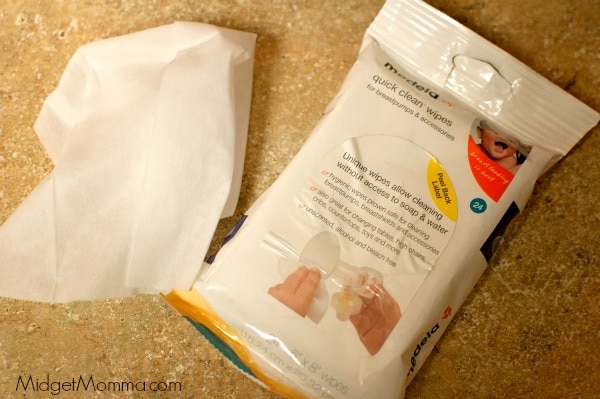 We also liked using them for teethers, tabletops, public changing tables and highchairs as we stopped along our route. My initial impression was that these wipes are amazing! The package is small enough to throw into the diaper bag for easy access. The wipes allow me to clean my pump and parts without having water, which was helpful along our road trip. Who wants to clean their breast pump and baby items in a gas station bathroom? When cleaning the pump parts, I did notice that the wipes were leaving suds/film on the parts. Initially this concerned me, but the package stated that as long as the items were allowed ten minutes to air-dry there was nothing to worry about. I did feel more comfortable doing a thorough sanitization of bottles and pump parts once daily, when we would stop at hotels for the night.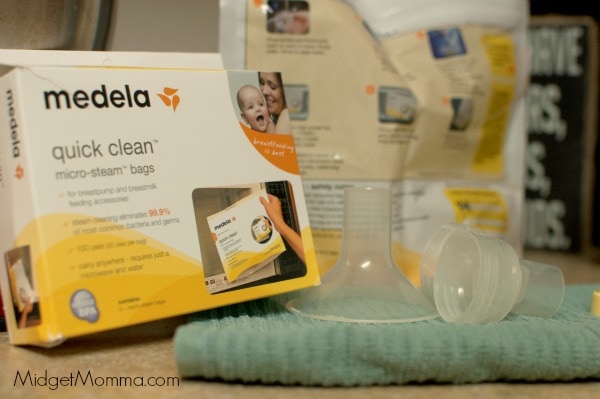 To sterilize our bottles, pacifiers, and pump parts, I used the Medela Quick Clean micro-steam sterilizer bags. Again, these are perfect for travel! The bags are sold in five-count boxes and each bag can be used twenty times! To use the bags, you simply put the items you would like to sterilize into the bag, add two ounces of water, and pop them into the microwave! Every hotel that we stayed at had a microwave in the room, which made using the bags quick and easy! Be careful when taking the bags out of the microwave, as there is a steam vent near the top of the bag and the steam will be HOT! I feel great knowing that 99.9% of the bacteria and germs on our baby items were killed in minutes using these bags. I have been using these bags daily, even after moving into our new home!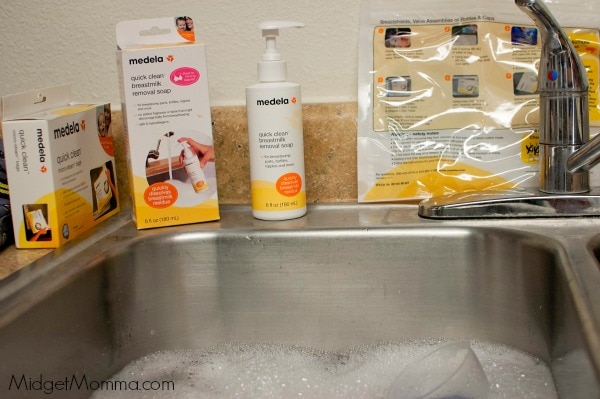 The last Medela product that I was given to review was the Medela Quick-Clean breast milk cleaning soap. I honestly did not feel that I would have much use for this soap, as the regular dish soap was working well for me at home and the wipes were working well for me on the go. I decided to give it a shot anyway and quickly realized what makes this soap different. It is no-scrub soap. As most of you probably know, breast milk is oily and leaves a film on the inside of bottles.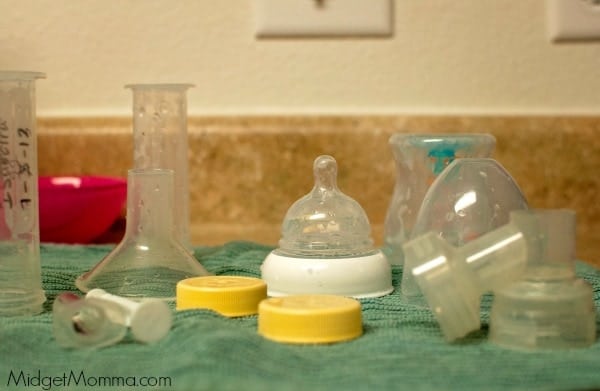 Sometimes the film is quite thick and difficult to scrub off. With the Medela soap, you simply fill a sink with hot water, add three pumps of soap, and soak your items. In minutes you can rinse the items clean- without having to scrub! I tested the soap on storage bottles; pump parts, bottles, and nipples. All of the items rinsed perfectly clean after sitting in the sudsy water! Perhaps my favorite part of this soap is that you can also soak your nursing apparel, bras, and breast pads. It will remove the oily stains!
Disclaimer: Medela sent me these products to review. All opinions are 100% my own.