I am always looking for new and interesting toys, toys that are classics but with a twist and when I was recently sent the new Monster 500 line of toys they fit the bill perfectly. Meshing cars with monsters for a ton of fun! You will be able to find these new toys at Toys R Us!
This line of toys I think is perfect to add to your holiday shopping list. If you have a kiddo who loves cars and monsters they will have a TON of fun with this new line of toys! I like that they are not gender specific, boys and girls who like monsters and cars will love them. Using them with the FREE app (more information below) means kids can bring their favorite characters to life with the app!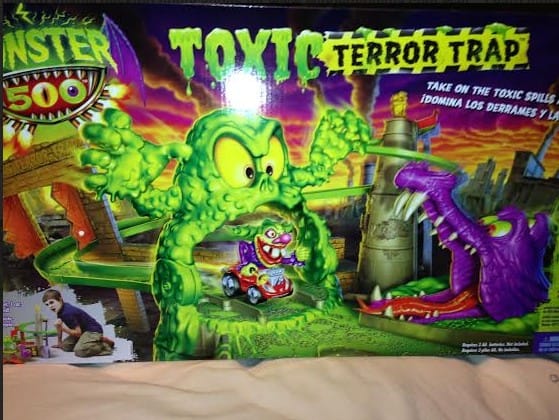 Monster 500TM Toxic Terror Trap Playset
Unleash the fiendish fury! Kids and kids at heart will enjoy the twisting, toxic, monster action this ghoulish playset has to offer. With one included character, Evil ClownevilTM, kids can smash through the doors of the freaky factory and topple the toxic, terrorizing monster, while avoiding being gobbled by the mutant gator all at the same time. Then, cars can be placed on the elevator before the hazmat mutant brings each vehicle up again. Compatible with all small Monster 500 vehicles. 3 "AA" batteries required (not included). Playset is available at Toys 'R' Us for $34.99
Monster 500TM Graveyard Gauntlet Track Set
Little racers will enjoy the ultra ghoulish action this spooky set has to offer. It's a battle to the finish line for kids, as they press down on the starting skull to begin! With one included vehicle, Drac AttackTM, and compatible with any small Monster 500 vehicle, daredevils can send their cars racing past the pendulum of peril and into the jaws of doom of the eye-popping, giant skull. A checkered flag will rise to signal the winner. No batteries required. Track Set is available at Toys 'R' Us for $19.99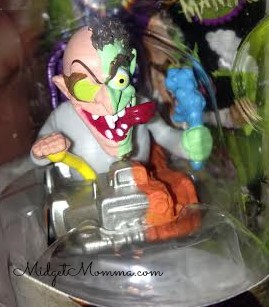 Monster 500TM Small Vehicles 
Kids can collect each of the 10 fast and freaky Monster 500 characters in 3-inch diecast vehicles, which are available in a single or 3-pack. Every car comes with a trading card. Each trading card has a Monster 500TM Code that unlocks a monster car in the FREE Monster 500TM Racing App. No batteries required. Vehicles are available individually at Toys 'R' Us for $4.99 or in the 3-pack for $14.99.
Monster 500TM Large Vehicles
For even bigger action, mini daredevils will love collecting each of the 4 large Monster 500 vehicles standing 4 inches high and 5 inches long, including Zoom ZombieTM, CrocPotTM, Lead FootTM and Flattop FrankTM. With the touch of a button, scary-good lights and sounds are activated on each vehicle for additional fabulously freaky fun. 3 "AG13" batteries required (included). Cars are available at Toys 'R' Us for $14.99.
There is also a FREE Monster 500TM Racing App that you can download to give the kiddos even more fun!
Join the battle for Monster 500TM supremacy in this frighteningly fast racing app. Fight other monsters as you navigate the death-defying tracks to the finish. Pick up weapons, avoid toxic spills and other creepy obstacles as you race. The App is FREE at the App Store and Google play.
Monster 500 Social Links
Website: http://www.monster500.com/
Facebook: https://www.facebook.com/Monster500
Twitter: https://twitter.com/monster500buzz
Disclaimer: I was provided these product free of charge to share them with you. No compensation was received and all opinions are 100% my own.