In our house we have our own little army to fight against the dirt monsters, dust bunnies and any other thing that gets in the way of my house being clean and I am not talking about my kids. The kids are a part of it but they are not the essential part to keeping the house clean, in fact they are the ones who make most of the mess. Our Army might be small and the machines might look small but the power behind them is one I wouldn't fight the battle of a clean house with out.
I am sure you are wondering what exactly our Army consists of, and it is 1 thing! Dyson! We have our mattress fighting machine, the Dyson D6 Mattress Vacuum, The Dyson Animal Slim (which I may or may not have cheated on my main vacuum with) and then my heavy duty doesn't take the cleaning duty lightly, Dyson DC65 Animal Vacuum.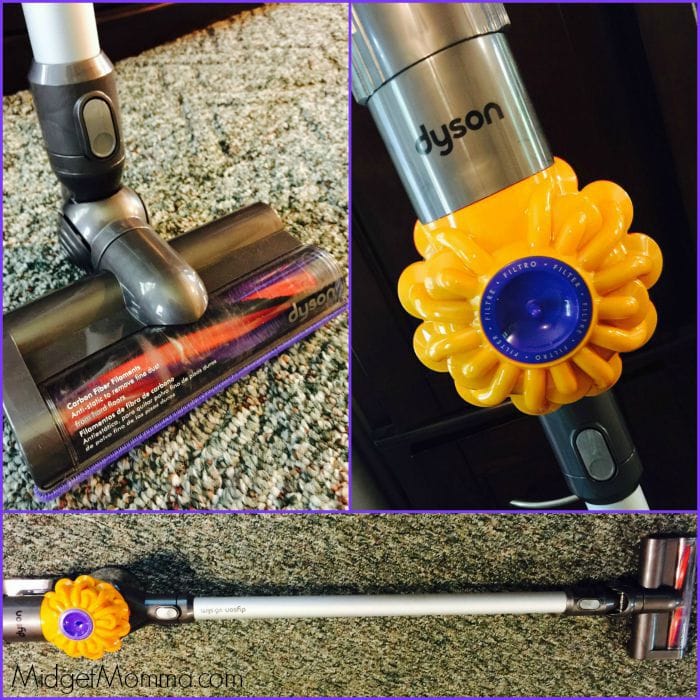 We just added the new Dyson V6 slim vacuum to our army of cleaning amazingness and I have to say this one doesn't fall short of my expectations when making sure I have the best cleaning members in my house cleaning army. (Let me give you advanced warning that I skipped vacuuming the living room for like 3 days before testing out how much it would suck out of the carpet).
The Dyson V6 Slim makes my quick daily vacuuming easy, with a 20 minute run time per charge I can whip it out, do a quick vacuum of a room I need to or a mess and be on my way. Plus is light so if the kids need to they can grab it, vacuum and be on their way with out needing my help! Plus there are some great attachments to help with your cleaning!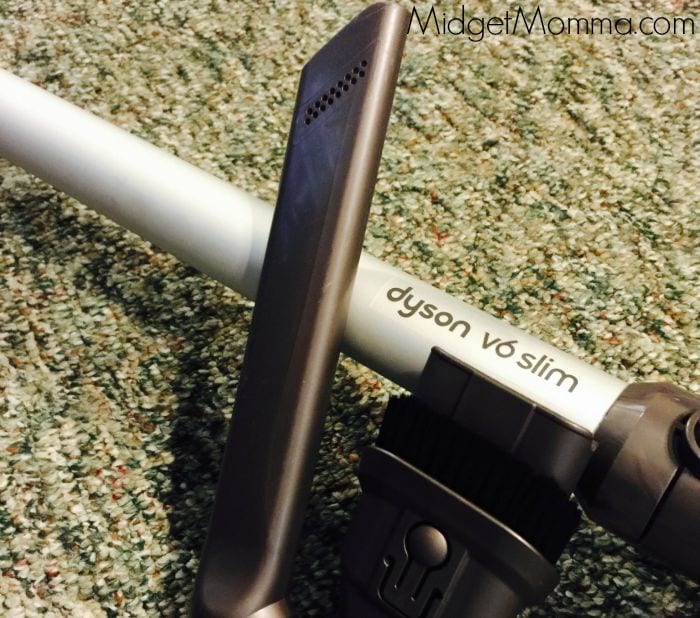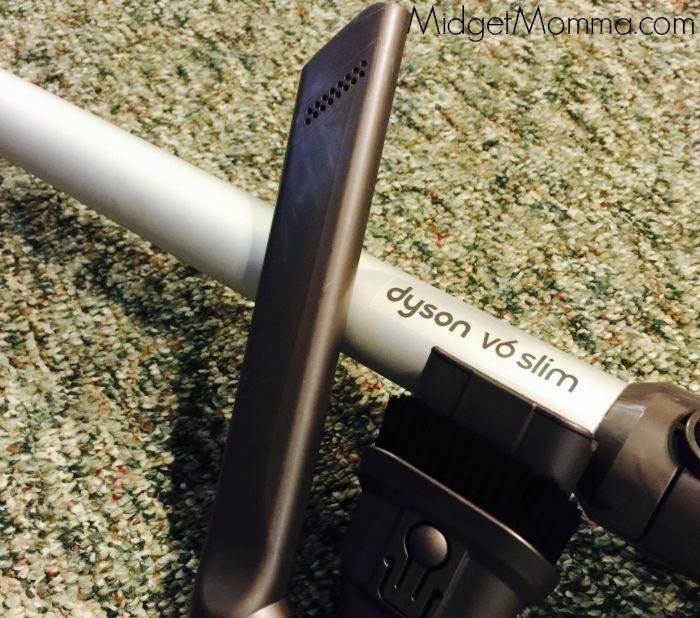 Cleaning the canister is a breeze! Let's face it no one wants to fight with a canister to get the yuck into the garbage, with the Dyson V6 Slim you just push the button to release the dirt directly into the bin! 30 seconds and it is empty! And when I say I suck up everything…here is some photo proof!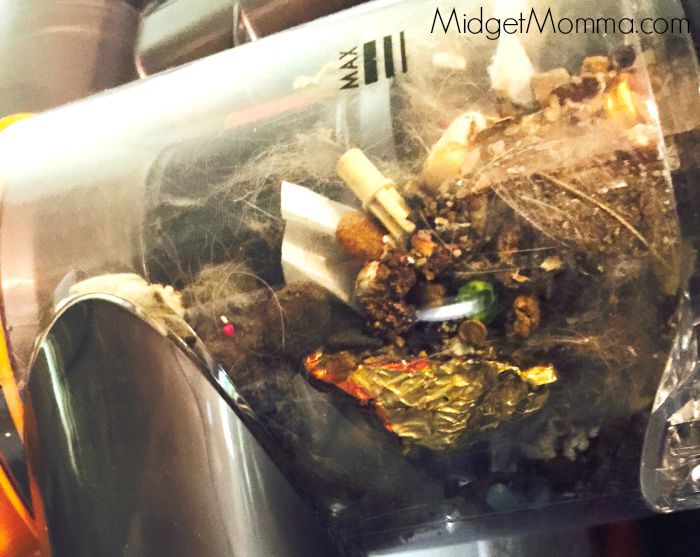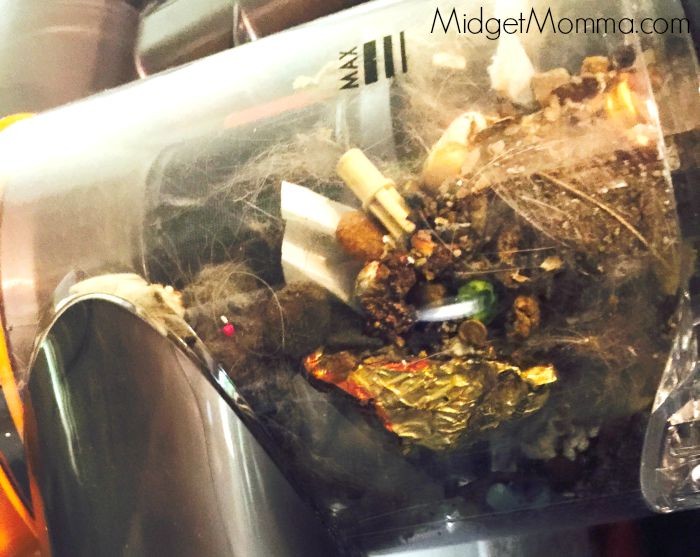 It is no wonder Dyson vacuums are such a solid piece to my house cleaning needs, I recently found out that they do INSANE testing on them! Dyson prototypes are subjected to 636 different validation tests. On/off buttons are punched 20,000 times. Prototypes are drop tested 10,000 times. Cleaner heads are slammed into iron table legs. That about sums up what happens when you let kids help you vacuum a house (or me who just sucks up everything as I go and why I have been banned from vacuuming, but I have been getting better and now I am allowed to vacuum and join in the fun!)
If you are worried about how your electric bill might be affected by having to charge it, Dyson has you covered. The machine's battery charger has qualified for the Energy Star rating, due to its energy efficiency.
This baby can tackle all of my vacuuming needs, the motorized cleaner head with stiff nylon bristles and soft carbon fiber filaments removes ground-in dirt from carpets and fine dust from hard floors! Including cat hair and mushed in crumbs from when the kids snuck snacks into the living room!
I can clean the stairs, the floors, the fans (which yuck! the dust!), the window frames I can not reach, and more with this one!
Did I mention that I LOVE that it has a 20 minute battery, you might be thinking well thats a short time BUT that means when the vacuum battery runs out you are done 😉
I can not say that my house cleaning army is complete, I have my eye on the Dyson Cinetic Animal, that one looks like a powerful beast and the design is awesome! Then there is also the Dyson – DC56 Hard Floor Wet/Dry Bagless Cordless Handheld/Stick Vacuum…. drool!
So where can you get your hands on the Dyson V6 Slim? There are quite a few places 🙂 Walmart and Amazon.
Dyson is the brand I went to after years of buying cheapo vacuums that never lasted and I ended up spending more money in just a few years then I did the whole time I had my first one that I bought which ended up saving me over $200 over that amount of time compared to how much I was spending on the cheapo ones that didn't even get my house as clean as the Dyson did. I won't ever go back to the other brands, Dyson has won my heart even though I did kill my first one (at 6 years old) by sucking up wet cereal and milk (I told you I suck up EVERYTHING!) So if a vacuum can last 6 years of my abuse (even though I am in love with them) then those of you who vacuum "the right way" will have a long time, loving relationship with your vacuum by getting a Dyson!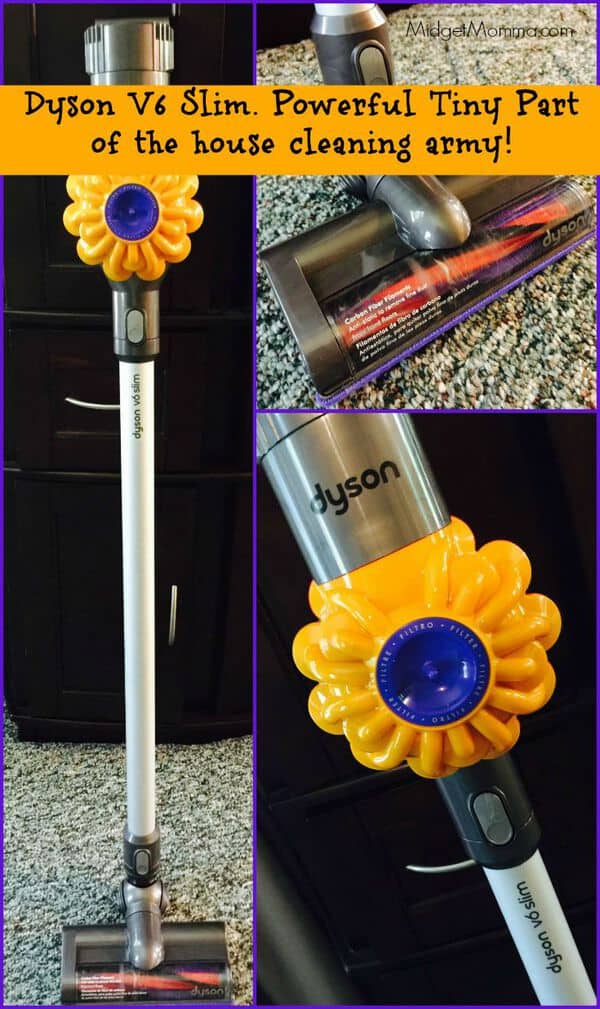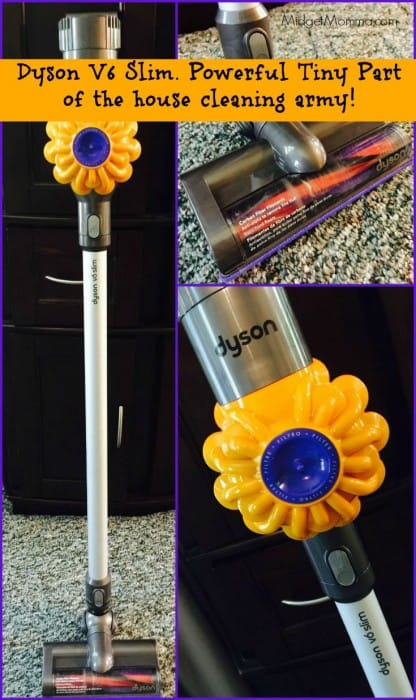 Disclaimer: Dyson reached out to me to test out their Dyson V6 Slim, I think my slight addiction to their vacuums might have something to do with it 😉 As always all opinions are 100% my own and my current love affair with the Dyson V6 Slim you can all agree to not share with my other Dyson vacuums right? 😉