Merry Mail Sign Christmas Decoration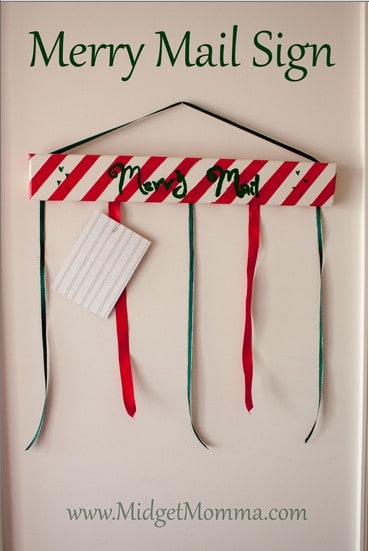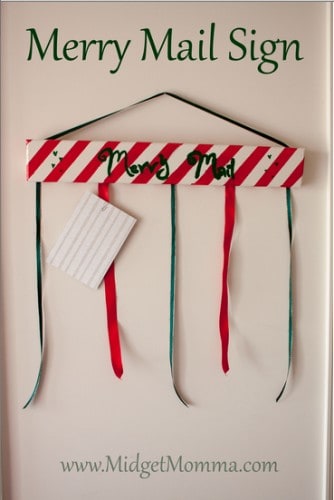 I am getting plenty of holiday cards but my problem is I used to just line them up on my counter when these to be envelopes cards. Now that there becoming one layer cards I'm running out of room to place somewhere. This merry mail sign is a great way to show off all your beautiful cards. For a tip on using the tape to make the stripes, it works out better if you start in one corner with tape.
Merry Mail Sign Christmas Decoration Supplies
Piece of scrap wood
White and red paint
paintbrushes
Painters tape
Printer
Printer paper
Ribbon
Scissors
Glue gun
Mini clothespins or paperclips
Merry Mail Sign Christmas Decoration Directions
Paint the whole piece of wood white. Once the paint is dry you can use the painters tape to add angled stripes across the whole board leaving about an inch in between each piece of tape. Paint over the whole board with the red paint. Once the paint is dry you can remove the tape carefully. If you have good handwriting you can just freehand the words merry mail onto the sign. If your handwriting isn't that great you can print off the words in any font you would like. Then using a pencil shade in the entire word on the backside. Placed the paper onto your sign in using the pencil trace the words onto it. The pencil should transfer onto the sign. From there you can paint over the words. For a little girly touch I added a few heart. Let the paint dry. Using the glue gun glue the ribbons a few inches apart and as long as you need. Using another ribbon, glue it from one ends the sign to the other so you can hang it on the wall. Use the clothespins or paperclips to hang the pictures onto the ribbon.