Continuing with the top secret information sharing about the ANT-Man movie today I get to spill the beans about the Michael Douglas Ant-Man Movie Interview. Make sure you also check out my Interview with Paul Rudd & Evangeline Lilly for more inside scoop on the ANT-MAN movie.
Michael Douglas plays the character Dr. Hank Pym, who is the father of Hope Van Dyne (played by Evangeline Lilly), and the creator of the ANT-MAN technology. If you are wanting more information about the the Marvel characters his Marvel database can help you out with characters you are wanting to know about. I hope you all enjoy the secrets learned in this Michael Douglas Ant-Man Movie Interview.
Michael Douglas Ant-Man Movie Interview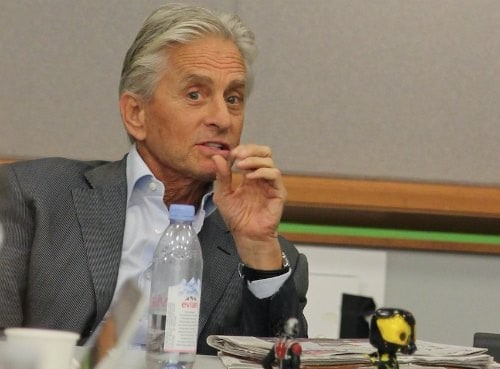 Michael Douglas sat down to speak with us about his role in ANT-MAN and he gave us some awesome inside information on the movie and the making of the movie!
Michael Douglas Ant-Man Movie interview | About his roll in ANT-MAN Movie
There are a lot of things that go into playing a roll in a movie and sometimes the characters have an awesome back story like the back story of Hank Pym.
Michael Douglas:
I enjoyed the Pym Technology scenes. I enjoyed seeing this huge picture of me up there on the wall, you know. I was the founder of the company and, and just the beautiful work they did on creating that, the designs of that company.
Michael Douglas Ant-Man Movie interview | Learning the part of Hank Pym in ANT-MAN Movie
Getting into character involves learning about the character before an actor actually plays the part. Some prep more then others and sometimes you need more background information when you are learning about the character you are going to play.
Michael Douglas:
Ironically for these kind of super comic book, it was more character background than you get in most parts you ever play, in terms of, your loss of your wife, the relationship with your daughter. So there was a whole bunch of stuff to actually, play once you, once you read it.
Michael Douglas Ant-Man Movie interview | Ant-Man Movie Technology:
Technology has come a long way in the years of movies being made. One thing I always enjoy in movies is the different technology that you can see is used, and seeing how the special effects make the movie hit the dream and vision the director, producer and actors have for it.
Michael Douglas:
One of the exciting things for me about doing this picture is I have never done a special effects movie before. My entire career has been actually all contemporary, contemporary story lines except for one movie out of I think 50.

In the first unit, we were doing stunts and this and that, but to see how they put four units together using the story boards, was, was inspirational. And it was a lot faster. I mean, how often too do you get to do a movie where you get to see yourself 30 years younger.

I saw and when I was doing dubbing for a couple of lines, there's one scene and they had done half. Half the scene is with the special effects where they made me younger, and the other half I still have the dots on my face. So it's hard to explain. It's been the wildest experience I've ever had.
Here is just a sneak peek of some of the awesome movie magic technology that you will see in Marvel's ANT-MAN movie.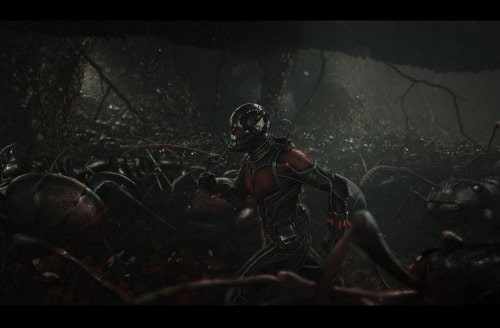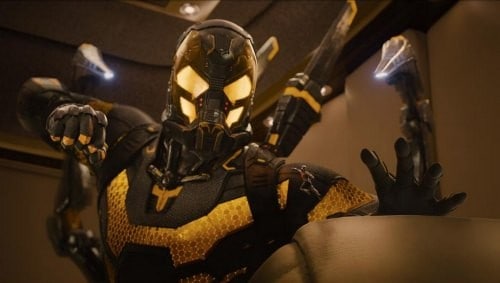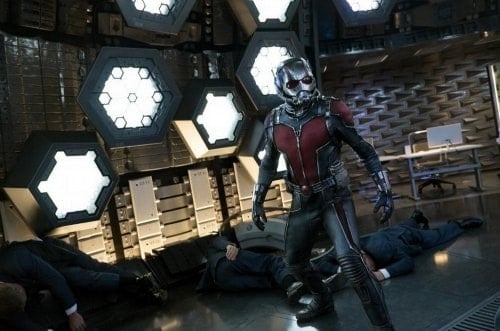 The technology in this movie is seen just about as soon as the movie starts. The action scenes are amazing, the costumes for certain characters including ANT-MAN himself are stunning and that is not possible with out the amazing movie technology. The special affects are really something to enjoy when you are watching the movie. The way they are able to create things and have characters move and just have "things happen" is amazing!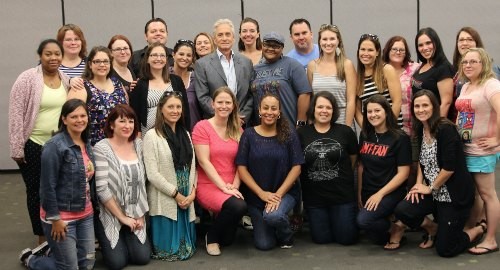 Disclaimer: I was invited to an all expenses paid press trip with Disney for the Marvel ANT-MAN Movie. All opinions are 100% my own.