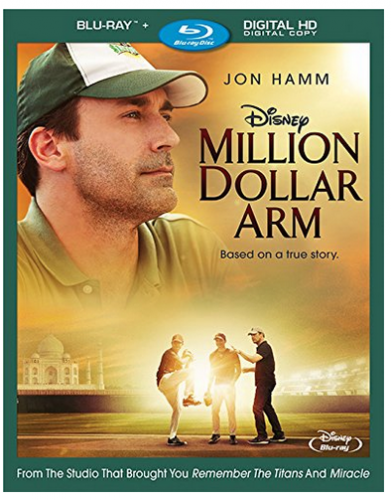 I am a sports fan. Maybe more like a sports fanatic. I love watching sports whenever I can. I love watching sports movies. I think you get the idea. When I heard that Disney was creating a movie about baseball I was excited. I was even more excited when I found out that movie was Million Dollar Arm. So when I got the opportunity to review this movie I jumped on it of course. Million Dollar Arm is based on a true story. For the most part sports in general are true stories. So if you haven't seen it yet you may be asking what is this movie all about? Well I intend to tell you. So let's go!!!!
Million Dollar Arm follows JB Bernstein in a last ditch effort to save his career. Who is JB Bernstein you ask? He is a sports agent. Sports agents thrive on finding new talent and getting them to sign with teams. Then, they want to keep those clients throughout their career. So reading that you may have guessed if his career is in trouble he probably doesn't have that many clients. And you would have guessed right. So how is he going to save his career? JB comes up with a plan to go out and find the next great Major League Baseball Pitcher from the a selection of Cricket players in India. A lot of people think he is crazy. His best friend doesn't though and wants to help how he can along the way. JB Bernstein travels to India and announces there will be a competition to find this next great MLB player. With the help of a couple other well known scouts they oversee the competition. And let me tell you it is underwhelming. No one can throw a fast ball higher than 87 mph (which is slow in MLB). That is until he comes across two that can. They are Rinku and Dinesh. A long story short, these two win the competition and get to come to America and try and make their dreams come true. Will Rinku and Dinesh succeed? Will JB Bernstein save his career? I don't want to spoil it for you so let me just say you will have a blast finding out.
The actors in Million Dollar Arm are great. From Jon Hamm down, everyone seems so in character you will feel like you are right there with them. Now this is a Blu-Ray/DVD so does it include bonus features and are they worth it you may ask. Well I can tell you there are plenty on here and I would say yes, they are very worth it. You get to see the real JB, Rinku, and Dinesh explore their story. There is also an alternate ending, outtakes and a lot more that I will let you discover. I truly enjoyed this movie and I think you will too. Is Million Dollar Arm the greatest movie of all time? No. But it is up their with some of the best sports movies of all time. And I think you will think so too!!!
MIDGETMOMMA.COM SCORE- 10 out of 10
You can purchase this Blu-RAY/DVD on Amazon here
Disclaimer: I was provided this dvd free of charge to facilitate my review, no compensation was received and all opinions are 100% my own.