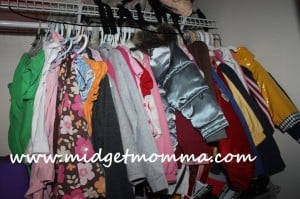 I have a Mom confession to make:) I have a VERY big weakness when it comes to my kiddos and their clothes I LOVE children's clothing! I will be walking around in a store, or a yardsale or hunting for deals on line and come across an adorable outfit, pants or a top and the little voices in my head start talking, saying things like  "Oh that would look so cute with that one pair of pants" or "How cute would that be on the girls?" and then I just can't say no. It does not help that my oldest would not keep the pretty little bows in her hair, or the big huge bows or some days it was even a fight for just a cute little pony tail but my youngest is a whole different story with hair accessories. She LOVES them! Every morning she asks for a  bow, brings me the hairbrush and the bow or ponytail holder that she wants and enjoys every minute of having her hair done. Of course that lead to me finding shirts to go with cute little bows for her, which did not help with my kids growing closets.
When they were little babies they ended up with more clothing then they needed and even now our stockpile boxes of clothing are overflowing. My only saving graces with hubby on the amount of clothing that the kids have is that I pay a fraction of retail price for them (as you have seen some of my shopping trips, like my one last week at Gymboree) and the fact that after my kids are done wearing the clothing I pass it on to people we know who can use it so most of the clothes I buy go through multiple kiddos.
Then there are the shoes, I have an issue with those too, I can't help but to buy cute shoes for the kids to match their outfits and so we have a box of shoes that I have snagged at great prices to go along with all the cute clothing that I have snagged for them.
I am going to soak up and enjoy the time that my kids let me pick out their clothes and wear the outfits I pick out since I know it is only a few years before I hear the words "I want to pick out my own clothes".
Do you have a Mom Confession? Do you have a weakness for buying your kids cute clothes?
Disclaimer: This post is sponsored by Clothing at Tesco, all opinions are 100% my own.
This post may contain affiliate links. Please read my disclosure policy here