This past Saturday I had the chance to take my oldest daughter to New York City with me for the first time for a dinner at Dave and Busters and then to see the new play Urban that is at the New Victory theater. My daughter has been wanting to come with me on a special mommy daughter date to NYC for a long time now and this was the perfect chance to do so and it was the perfect day for both of us!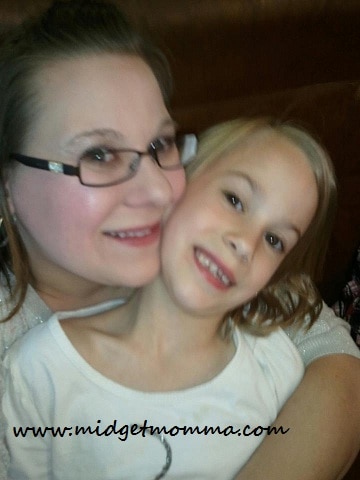 With her first ride on a train, she was super excited and we started our day out by stopping at Dunkin Donuts to get some pumpkin munchkins (and of course some pumpkin coffee for me) for our ride there.
Once in the city we had a little bit of time to spare so we walked from the train station to the Dave and Busters where we were meeting the rest of the group, along the way we passed Ripley's Believe it or Not and got to see the side show of the man who can hammer a nail into his face! Her expression was priceless (and I wish I had gotten a picture) when he did it. She was in complete awe and now wants to go back to see the rest of what they have.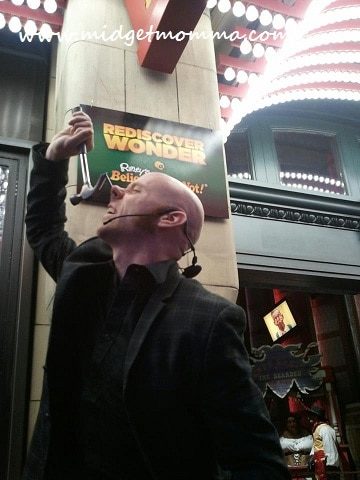 We then headed to Dave and Busters where we got to taste some of the most popular items that are on their menu. I had never been to a Dave and Busters before and we both enjoyed the food! It is a great place for both kids and adults to have fun and enjoy spending time together. The food was awesome and the games were great for all ages!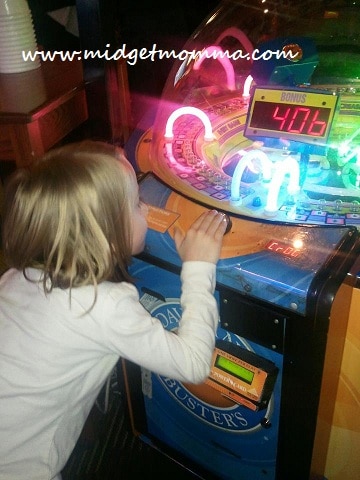 We then headed to the New Victory theater was saw the circus Circolombia  Urban, a circus show but not they type you are thinking of. It was a story (and while most of it was in spanish and we did not understand the words the emotions and movements are perfect for telling the story). The show was stunning!!!! The cast was amazing and the talent, WOW!!! The acrobatics and trapeeze acts were amazing as was the dancing. The story was heart touching and even though I had to explain it to my daughter after the show was over she still loved every minute of it.
From the barrios of Cali, Colombia, comes URBAN, a take-no-prisoners acrobatic tour de force that balances risk and reward, defiance and delight. An original commission for CircusFest 2010 at London's Roundhouse, Circolombia's autobiographical show features jaw-dropping acts that "have an edginess that lift them above the everyday" (The Stage). Vigor, danger and attitude infuse every pounding beat, from the phenomenal feats of strength to the tremendous trapeze, tightrope and triple dutch routines. Thumping reggaeton underscores lyrics like escribe con los pies, poeta de la calle—write with your feet, poet of the street—galvanizing audiences with awe-inspiring acrobatics, rich rhythms and exuberant energy.
At the end of the play we were about to leave to head to catch our train and got super lucky and saw some of the cast members who were willing to meet her, sign her program and take pictures with her! She loved every minute of it and her smile was soo big!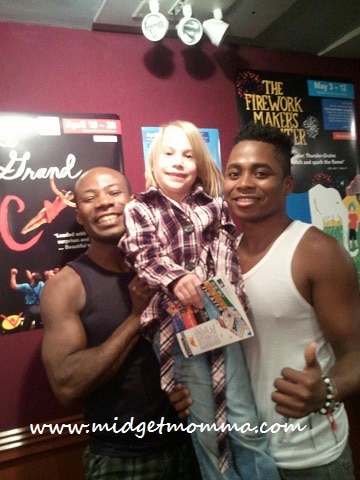 It was an AWESOME day for both of us, and the perfect way for my daughter to experience New York City for the first time! I can not wait until the next time her and I get to have a Mommy daughter day!!!
Disclaimer: A BIG Thanks to Mama Drama NY for including us in this awesome day! I received a meal and tickets to the show for free. No compensation was received. All opinions are 100% my own.