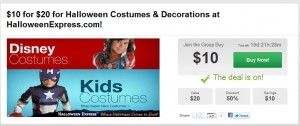 Halloween is right around the corner(technically a little over a month away but still close enough to start thinking about it) and we all know costumes can be expensive especially since some times kids wear them one time and then they never wear them again. There is the option of making your own but some people do not have time to do that or are like me and are not crafty enough to do that. So for those of us that fall in those categories I am on the hunt for deals on costumes:)
Today from Moms8.com you can get a $20 voucher for just $10. New members of Moms8.com also get a $8 credit to Moms8.com when they use the code when they sign up. The $8 credit can not be used towards the Costume Express deal but it can be used towards other deals like the one last week where Fitness Magazine was free after the credit.
How to score this deal:
Sign up for Moms8.com
Use code  PARENTING8 (to get your free $8 credit)
Add the $20 voucher to your cart and pay $10
After you purchase your voucher you will be automatically taken to the Costume Express site
At check out your $10 credit will automatically taken off your total!