I am so excited that I finally get to share this with you I have been BURSTING at the seams trying to keep my thoughts to myself and I can finally spill the beans! Make sure you check out all the Behind the Scenes of Brave coverage.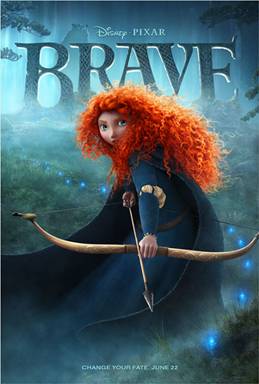 Merida, the daughter of King Fergus and Queen Elinor, is a strong willed girl who makes the choice to change her fate after not agreeing with the role that she was born into. Merida defies the old age tradition of the Lords bringing their sons to win heart of the Princess and chooses to "win her own heart". Her actions upset her mother and cause a fight between the 2 of them, along with craziness to be unleashed in the kingdom.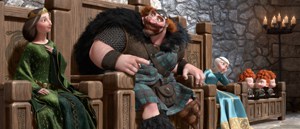 Merida leaves the kingdom and and finds herself meeting a witch who will "help her change her fate" and she ends up with more than she bargained for.  To make things right it will take more then just a few little fairy tale like actions and a lot of work together for Merida and Queen Elinor.
As with all Pixar movies you will find the Pizza Planet Truck so keep on the look out for it!
My Thoughts:
I enjoyed the movie, and it has been added to my top 3 Disney movies, which include Toy Story and Finding Nemo. I have specific things that I look for in a movie since I have 3 kids that are different ages and this one appealed to all 3 of my kids and I personally loved it and the message that comes from the movie. The story and the message in the movie I felt were easy for my older 2 (who are 7 and 5) to understand, they were able to walk away and tell me the message and what they learned from it when we were on our way home.  The action and excitement was enough to keep my 2.5 year olds' attention with minimal bouncing around and anytime she the little boys or the little bears she was very excited. If you have children who are sensitive, there are a few scenes that your kids might be a little frightened by (that is where mommy hugs helps my kids).  As a mom who has already started dealing with the disagreements with my daughter and her wanting to do her own thing at times I can relate to the mother. The ending of the movie, brought tears to my eyes so make sure you bring tissues with you!
I also want to mention, the Father aspect of this movie. As many of you know hubby is a giant goofball as is King Fergus. Granted when necessary hubby and King Fergus get serious but as a a norm they are the laughter in the household and the fun and games. That is how our house is and it makes a perfect balance, I like that the characters give a balance of each other, Queen Elinor is the rule holder and King Fergus is the fun that is how our house is and I think personally you have to have a parent of each side to keep balance.
While the movie is rated PG I found nothing wrong with having children my kids ages view it, yes there are a few scary scenes but nothing that many kids have not seen in other Disney movies.
Disclaimer: I was provided tickets to take my kids to see this movie, all opinions are 100% my own.
This post may contain affiliate links. Please read my disclosure policy here