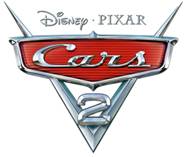 This past Saturday we had the oppertunity to see Cars 2 in 3D! We left our 16 month old at home with grandma while Hubby and I took the older two to see it with us. They both enjoyed it, it was their first time seeing a 3D movie, which we did have a few issues with the glasses but once they got used to them we were good to go. My son has never sat and intently watched a movie, normally about 3/4 of the way through it he is starting to wiggle, not with this movie he sat with his chin in his hands watching it the whole time. My 6 year old daughter did wiggle a bit but she is also more of the princess type movie girls, so while she enjoyed it it was not her favorite movie. They have been acting out parts of the movie though since we got home, today they were sitting in their tree house eating popcorn and I asked them what they were doing and they said watching Cars 3, so they are apparently already looking for the next Cars movie 🙂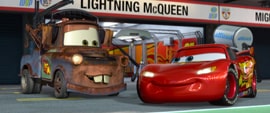 The movie was definitely an attention grabber, it was not really a sequel to the first cars movie but it brought back all of the awesome characters from the first one. In a race around the world in the World Grand Prix race to see who the fastest car in the world is. Lightening McQueen and Tow Mater learn a lesson in what their friendship means to each other, which I think is an important lesson to be learned by all children, that your friends no matter who they are or what they look like or act like are your friends and that true friends are a very important asset in life.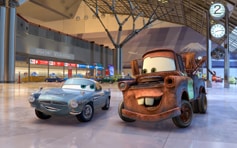 Cars 2 has a surprising twist, when Tow Mater ends up getting involved with a group of spies. I am not going to ruin it for you but just the thought of Tow Mater being a spy makes me giggle, totally not what you would think of Tow Mater doing. There is quite a bit of action in this movie and sadly one of the targets in the movie is Lightening McQueen but I did not see the action as being to much for a child the ages of mine and older.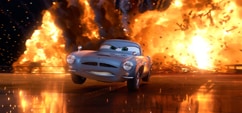 But the story line is fantastic, as an adult I enjoyed the movie and so did my kids. There were not any parts that lagged at all, I am sure you have all been to movies where there are parts that do not hold your child's interest and they start to fidget and ask for more popcorn. Well with Cars 2 we did not even get popcorn and none of them even asked for it!
Cars 2 comes to theaters on June 24th! Will you be seeing it?
This post may contain affiliate links. Please read my disclosure policy here