Avengers assemble. And let me assemble with you. This movie will blow you away. You will enjoy the ride and wish it would never end. The movie starts as we are taken to a secret facility that is under evacuation. The Tesseract- an energy source of unknown and vast potential has nearly become active. Before long Nick Fury (played by Samuel L. Jackson) director of the agency S.H.I.E.L.D., and Agent Maria Hill (played by Cobie Smulders) arrive at the facility to check things out. The meet up with Agent Phil Coulson (played by Clark Gregg) and let him know to continue the evacuation. They finally arrive at the room where the Tesseract is kept and observed by Selvig (played by Stellan Skarsgard). We are also introduced to Hawkeye (played by Jeremy Renner) who is in charge of watching over the Tesseract and everyone involved in its study. Soon after they arrive the Tesseract activates bringing Loki (played by Tom Hiddleston) into our world. His intent is to wage war on earth with a Alien Race called the Chitauri and subjugate the human race.In order to stop this threat Fury must assemble the Avengers: Tony Stark/Iron Man (played by Robert Downey Jr.), Steve Rogers/Captain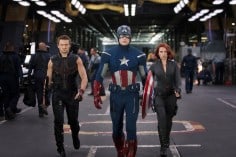 America (played by Chris Evans), Bruce Banner/The Hulk (played by Mark Ruffalo), Thor (played by Chris Hemsworth), and Natasha Romanoff/Black Widow (played by Scarlett Johansson). How they all get called back into action is a very entertaining and engaging experience. What really surprised me about the Avengers is the sheer amount of comedy. The jokes keep on coming and at no time were they out of place. I found myself laughing much more than expected. The action sequences are just as thrilling. The last 30 minutes of "The Avengers" will keep you on the edge of your seat. Director Joss Whedon did an excellent job mixing all the elements together to create a movie that will enchant you. The visuals are bar none and some of the best I have seen to date. The soundtrack is on par with the best of them. All of the actors in this film have great chemistry and you can see it in every scene. And besides one scene that may not be suitable for kids, this is a movie you can take the whole family to. "The Avengers" is a must see for anyone. Period. Assemble at the theaters….before it's too late.


Disclaimer: I was provided tickets to the advance screening of this movie. I was not compensated for this post. All opinions are 100% my own.
Join the newsletter
Subscribe to get our latest content by email.
This post may contain affiliate links. Please read my disclosure policy here