It is with a heavy heart today that I write this post, last night was a whirl wind of events that ended with our little Muffin gaining his angel wings.
Yesterday afternoon the kids were playing with muffin and all of a sudden he started having very labored breathing. We called the local vet that we knew and they were unable to see him but they told us about the local Vet ER and so I called them, talk to them and they said to bring him in to be seen. We arrived to the vet and he was breathing hard, they took him back and they checked him out and came out and told us that he had a collapsed lung and that he needed to be put on oxygen and they were going to then reinflate his lung and that he would need to stay over night. We walked out of the vets office thinking that in the morning we would come and get muffin and bring him home.
Around midnight the vet called, they had been able to inflate his lung a little but and did another xray and found that he had a mass in his chest and that had not been seen until is lung was inflated and it was pushed up. They called to ask us if we wanted them to check him for feline leukemia because thats what they thought the mass was, I said yes and they told me they would call back as soon as the test was done. They told me that since arriving he had not been able to come off of the oxygen. The waiting sucked and I ran to the phone when it rang and they gave us the news that muffin indeed had feline leukemia and that his prognosis was not good and they were not able to guarantee that he would make it through the night. They also explained to us that if he were to make it and we were to bring him home he would deteriorate rapidly, and have to be kept in a room by himself as to not infect the other cats (which we need to have them tested also but to be on the safe side), it would mean that he would not get to play with the kids, which was one of his favorite things to do and so we made the hard choice to not let him suffer. We called my dad and he came over to sit with the kids while the slept and off Tom and I went. That felt like the longest car ride ever, knowing what was about to be done, knowing that we were about to say goodbye and knowing that our kids who loved him so much would not be able to.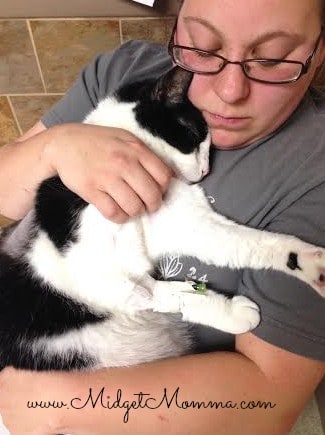 (Me snuggling muffin when we first got to the vet's office)
Walking through that door to the vets office was hard, but then when they brought him in for us to say our goodbyes was even harder. He had been on 80% oxygen the whole time he was there so when he came in the room he acted and looked fine. With in minutes though you could see he wasn't. He was open mouth breathing, his body was struggling to breathe and so I picked him up and snuggled him. I talked to him. I told him everything is going to be ok and that soon he was going to feel much better. I sat in the chair with him for I am not exactly sure how long, but over the course of it his breathing continued to get worse, he continued to fight with what he had and then the doctor came in. It was time to do the thing I can not even put into words. However we knew it was right, we knew keeping him alive was for our own selfish reasons and that having him gain his angel wings not in pain was what was best. I stood up from the chair to lay him on the table and I couldn't do it and so I held him. The nurse was getting ready to give him the sedative and before that even happened I felt his legs go limp and drop to my side (I was cradle holding him like a baby) and I knew that he had gone and gained his angel wings. We still proceeded with his shot, however  I know he was gone before the first one was even put into his IV. Feeling his legs go limp in my arms and knowing that he was now on his way to go see my uncle (which is how we adopted him from when my uncle passed away last August) The doctor left to give me time with him and the tears were flowing, I talked to him and told him I loved him and laid him on the table, tucked him into the blanket they had and walked out of the room. The hardest walk was yet to come. Telling the kids that their beloved muffin who they prayed so hard for last night to be better would not be home again.
This morning we sat the kids down, we told them that he gained his angel wings. We cried, hugged and looked at pictures. The hardest thing ever is seeing your kids with tears down their face, saying they miss someone and love someone and they want them back. That broke my heart.
Muffin may have gained his angel wings and no longer be walking around our house, but in our hearts he will always be. He will always be a part of our family  and we will always love him.
What caused his leukemia we are not sure of, but what we do know is that he was originally found in a hoarder house where there were 40 cats living. He was then adopted my uncle and when he passed away he came to live with us. The vet says the most likely place that he contracted it was when he was living with 40 other cats in the conditions of a house like that are not good for cats and they get sick. I am happy that while his life started out in a hoarder house, he lived with my uncle who loved him and then we got the chance to have him as a part of our family too.
Muffin- You drove me absolutely crazy, underfoot all the time, into things that normal cats don't get into but then again you were not normal. You let the kids put you in doll carriages, carry you around like a doll, slept with them at night in their beds, looked for them as soon as they got home from school. You were more then a cat to them, you were their playmate and friend and I will forever remember the smiles that you brought to their faces. We love you muffin, Always and forever and It is not good bye for one day we will see each other again.