It is no secret that vacuums and I have a love hate relationship, I love them because they suck things up and they hate me because I am normally the reason behind their demise. It is a relationship that has caused Tom to ban me from vacuuming (he has his own that I am not allowed to touch for he fears that it will meet its demise if I were to do so). When I was contacted about the new Dyson Digital Slim Animal vacuum I took it as a challenge, could this be a vacuum that I could love and it could love me back?

Upon opening the box I fell in love at first sight, the first Dyson we had was an Animal and it lasted through 6 years of my torture before Tom was no longer able to save it and we had to sadly say good bye. But it was my favorite of all the vacuums we have ever had (trust me we have had TONS and learned fast that the cheapo ones will never last even for someone who is gentle with their vacuum and after many met their demise I convinced Tom that we needed a Dyson after reading so many awesome reviews and then I found one on sale at Target and that was it, I bought it and brought it home and was in love!). This was like meeting that vacuums sister, it was the same color, same Dyson brand and a little bit different then the other one. There is a lot less spots that I can clog ;).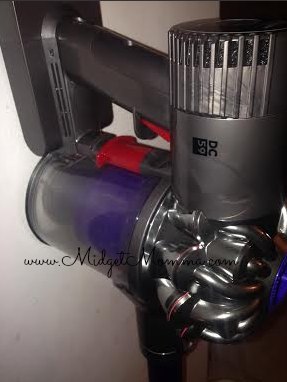 Upon removing the vacuum I was easily (read with out Tom having to do it), put it together, quick, painlessly and easily. With in less then 3 minutes I had a new vacuum all put together! Seriously it was that easy. Then came time to charge her up, easy peasy, plug her in, wait and wait, waiting was the hardest part and then it was time!!
She moved with ease as she sucked up the crumbs on the floor that Alyssa has so generously left there while eating her crackers for snack. What is great is that there is no cord that follows us around while we clean the house, as that is another challenge I face, for whatever reason the vacuum cord always seems to want to be sucked up along with the dirt when I am vacuuming, causing many issues itself, so no dealing with that pesty cord! The attachment piece does not need to be on to suck things up, which gives a much bigger opening for my lazy vacuuming skills, and the thing that drives Tom the craziest is when I got things stuck, can't happen with this one, the tube space is HUGE! Adding the attachment piece that was easy to, popped it on, vacuumed the floor and all with out sucking something up that I shouldn't have!
Now I am not going to admit to Tom that I can now handle vacuuming, as that would mean he would give up that task (and I am sure his vacuum would get rather sad and lonely not doing any work) so let's just keep this a secret between us, and my new friend. Tom doesn't really need to know about my new relationship with her does he? It would really only make him sad that he would have to part ways with his friend and vacuum. Thanks for helping me keep my secret 😉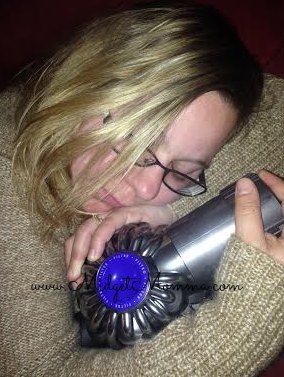 (Sometimes snuggles are needed 😉 )
Some good information to know about my new friend:
2 year parts & labor warranty when purchased from an authorized reseller
Sucks up as much dust as a conventional vacuum. Without the hassle of a cord.
3x the suction power of any other cordless vacuum in use.
Powered by the Dyson digital motor V6
2 Tier Radial Cyclonesvery floor type
Disclaimer: Dyson provided me my new friend to help with my cleaning needs,and  I should have believed them when they said "it would change my life" but I am glad I didn't and tried it out for myself.
Join the newsletter
Subscribe to get our latest content by email.