Disclosure:  This post is written to bring exposure to the Wounded Warrior program and is sponsored by Brawny. All opinions are 100% my own.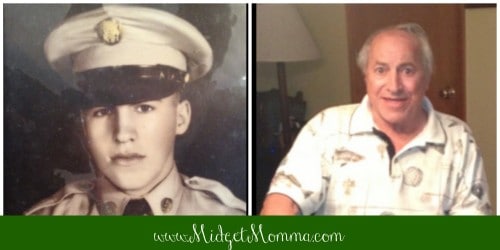 I quickly posted to facebook on Friday that my grandfather has passed away and I never got the chance to write a post here on the blog and I want to take the time now to do so for many reasons.
My grandfather was a great man, I mentioned him for the first time a few weeks ago in a post that I wrote about boating and writing that post before he passed away was on that brought back many amazing memories of me and him. The past few days since he passed away a flood of more amazing memories along with the grief of missing him and the realization that I would not be seeing him again.
My grandfather accomplished so much in his life. He was a hero in my eyes. He served in the United States Army in the Korean War and earned a purple heart, 5 bronze stars and the Korean War Medal. I remember being a little girl and hearing his stories about living life from being in the Military to working for ABC as a camera man and I loved hearing them. I remember thinking about what a hero he was to have earned all of those medals and awards being in the Military.
When I joined the Army (for the few months I lasted and a story for another time) my grandfather was one of my biggest supporters.
When Tom went into the Air Force I remember my grandfather telling me how proud he was of Tom for doing it. When it was time for Tom to deploy I remember my grandmother telling me what it was like when her and my grandfather were apart during his time in the Military when they only has snail mail and it gave me even more appreciation for the e-mail correspondence that we were lucky to have while Tom was deployed and away at training.
When I had questions about what war was going to be like for Tom (since I knew some from friends who had deployed but they wanted to give me the nice version) my grandfather was upfront with me and honest and what I should expect. Really with life in general he was open and honest with me and I learned many great lessons about life from him. He taught me my stubborness (ok so that might not be looked at a positive but for me it is, I am stubborn when I am motivated to do things), he taught me not to lower my standards when it came to people I allow in my life, he taught me to stand up for what I believe in, he taught me to be myself, and those are just a few things. He and I did not always have the best relationship but this year at the family reunion last month we got it all out and cleared the air and even though as I have gotten older I began to understand why he was so hard on me it really came to light last month when we talked about it.
My grandfather is a hero both for his military service and for being the great man that he will always be remembered as.
You can show your support to our troops by heading over to the Brawny Facebook Page – and leave a "Thank you" Every time a person leaves a comment thanking our troops Brawny is going to donate $1 to Wounded Warriors! Such a simple easy way for all of us to help those who protect our country.
Disclosure:  This post is written to bring exposure to the Wounded Warrior program and is sponsored by Brawny. All opinions are 100% my own.