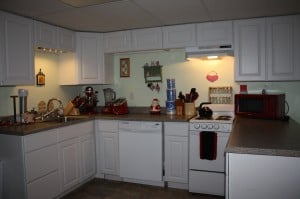 I have Forever wanted a Red andBlack Kitchen and well being the frugal person that I am could not justify the price of redoing my kitchen until this year, when I was searching through the Black Friday ads and saw that at Kohl's you could get the red Kitchen Aid Mixer that is normally $600 for just $170! As my Christmas present from my parent's I got the Kitchen Aid mixer(which when I told them I was going to buy it at that price they decided to buy it for me) Hubby got me the Red Kitchen Aid Knife set on sale(he refuses to tell me how much because it is a Christmas present but that it was about 50% off) My son got me my black Kitchen Aid tea pot (he got it when he was out with hubby one day and it was on clearance but hubby won't tell me the price on that either but that it was 50% off). The red microwave and red toaster was another gift from my parents who saw it on sale(they won't tell me the price)  and since they knew what I had been wanting for my kitchen they got me it. My Kitchen Aid blender I bought myself, I had a CSN.com gift card and they sold it for 99.99 (all the other stores I had looked had it for $149) and I used a $70 gift card and scored it for just $29.00 including shipping. And not all of my utensils are pictured but on a trip to TJ Maxx they had a whole section of Kitchen Aid in red, all were pricedt 50% and 70% off of the retail price! To add some flare to the kitchen I went with Black and Red towels(which loving family members got me for Christmas).
A way to save money when decorating your house or redoing a room, is very possible. So while this kitchen redo retails for about $1200, If I had bought it all out of pocket (basing the sale prices off the % I have been told and looking online for retail prices) It would have been about 40% of the retail price, making it about 480.00 total for a $1200 value kitchen redo!
There are a few more things I am looking to add, like a red or black utensil canister and new dishes, which I will continue to hunt for until I can find them at a price I am willing to pay (at least 50% off)
Have you scored any great things to redo your house lately?
Join the newsletter
Subscribe to get our latest content by email.