As many of you know back on October 2010 we moved to PA, at a choice that we had to make due to hubby's military medical retirement and because of that change we had to get rid of quite a bit of our furniture. One piece that was difficult to get rid of was my red couch, I loved that couch and  having to push that couch down the road to the dumpster(which thankfully on a military base furniture put by the dumpster in good condition is picked up quickly by people who need the stuff) was a very a very hard thing to do for me. We knew the move was coming, but getting rid of that couch (because we were moving into an apartment in my parents house that already had a couch) made it hit how much things were changing. While we were moving our entertainment center fell off the truck and broke and as we were unloading our truck we realized that our bedroom set was to heavy to bring down the stairs so we had to get rid of that as well. While were there we had a small flood which ruined the one other couch we had brought with us and so that was gone too. We found a house to rent and sadly the hutch that we had didn't have a place in this house we are in now (which we have had since we got married so that was a hard piece of furniture to get rid of too) and so it was left at my parents house and gotten rid of. We have 2 very awesome and generous friends who when we moved to New Jersey were on their way moving to Spain and we got a couch set and entertainment center from them, and while I was very thankful of their generosity I still didn't feel like it was my house. Until this week when I was on a local facebook yardsale group and someone posted a 2 piece living room set of a RED couch and love seat. As soon as I saw it I got excited it took a little bit of persuading hubby to get them (because the ones our friends gave us had recliners and the red ones did not) but after just a bit I got him to give in. (And we were able to give the couches we had away for free and help someone else who was in need) and I was able to get my red couches. Now that I have the red couches, my living room feels like mine and it feels homey again. While there is still much to be done to get my house back to what it was and being my home again the red couches are a step in the right direction for me and really made may week.
My living room with my "New to me" Couches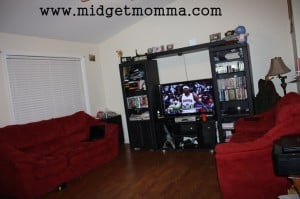 We have never had new furniture, we have always bought used and while eventually one day I hope to purchase brand new furniture buying "new to me" furniture is just as good (make sure it is in great condition and clean of course) and it saves a lot of money this way and I will be able to slowly and affordable get my house back to being mine with my style.
Do you have any "New to Me" furniture? What is your favorite "New to Me" piece of furniture?
This post may contain affiliate links. Please read my disclosure policy here