I am so NOT a morning person, which is really no shock to you all as I am sure you are used to seeing new posts pop up on the blog in the middle of the night. You might also be shocked to know that I do actually get up and out of bed during the week between 7 and 7:15 am. Scary I know! But you also know you don't see me up and at em online till about 9-10am…. there is a reason for that LOL. I need to make sure I get the coffee in my system and wake up. The kids and I have to be at the bus stop at 8am and with out the night time stuff I do and the coffee intake it would never get done!
I thought I would share a few tips on how I make the mornings not suck so bad because anyone who is not a morning person knows just how much mornings suck. Those of you who are morning people share some tips on how to be a morning person PLEASE! I feel like a zombie from the time I get up until about 9am and would like to try and actually enjoy the mornings. I enjoy the morning part spent with my kids (aside from the fighting because only Logan is a morning person out of all 3 kids) but enjoying the getting up early might help with my nonfunctioning self before 9am 😉
So I have been a LOOONG time fan of the Pack-It lunch box. It was the only lunch box we used for a very long time, until this year when the girls got new ones that were not pack-its and Logan didn't want a new one so he still had his pack-it and I realized it took time away in the morning using a pack-it vs a traditional lunch box. Maybe when I become more of a morning person we will go back to the pack-it because I do love them but right now we are sticking with traditional lunch boxes and tossing the ice pack in it in the morning.
So at night I lay out the kids lunchboxes on the counter, figure out what sandwich the kids want for the next day and I make them. Then I have this roll away cart 3 drawer plastic thing where I keep all of the lunch snacks and the kids pick x amount per each drawer. On Sundays I refill it then I don't have to worry about it for the rest of the week.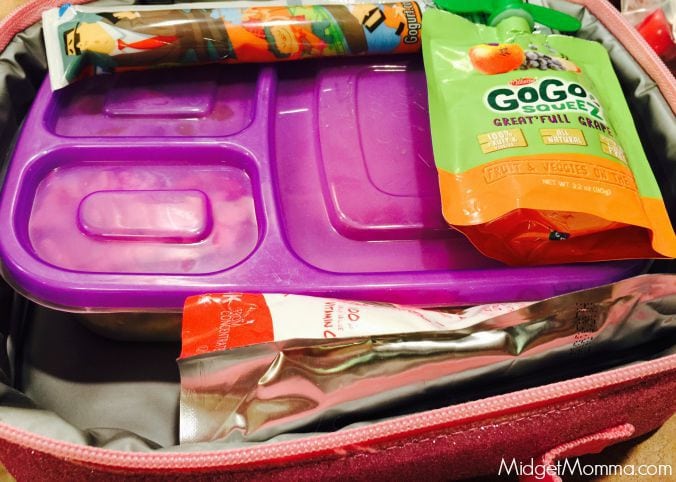 So after the kids pick out their lunch stuff, I make their sandwiches I toss in string cheese and yogurt. Zip them up and put them in the fridge. (notice the coffee creamer, for anyone who thought I might be joking about my love for coffee 😉 )
The kids have to bring snacks to school with them so they each have a ziploc bag that I refill at night and they put in their lunch boxes. Classy I know, but it does the job and it does it well 😉 Then into the backpacks they go!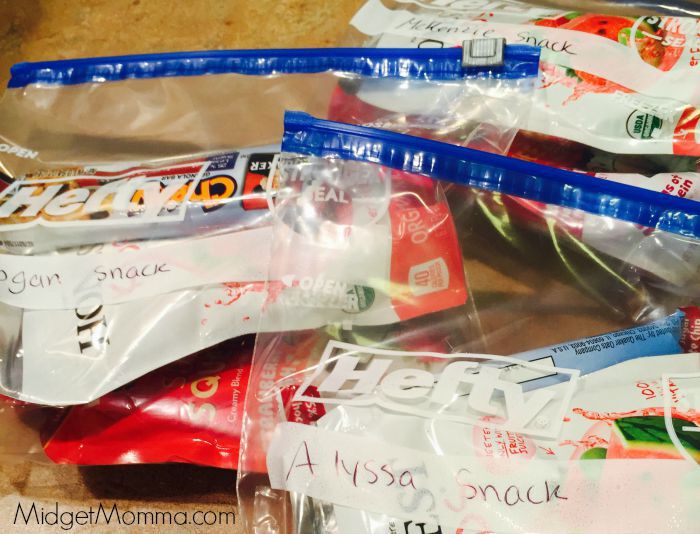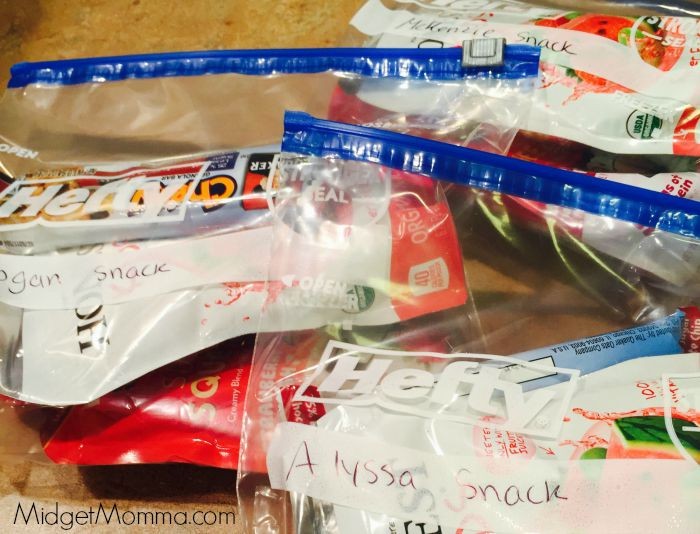 The kids put all their backpacks together with their sweatshirts and hang them up. It is not stylish by any means, I literally took a package of command hooks and stuck them on the wall, but hey again it does it's job. Im not here to be classy in the mornings, I'm just here to get them up, dressed, fed and out the door to make that bus!
Ok so then the kids and I pick out their outfits for the next day… underwear, socks, shoes. ALL of it! Totally helps when Logan is up at 6am and wanting me to help him get dressed, I am still in my wake up fog and totally delusional still. Having the outfit done at night means when he is bright eyed and bushy tailed at 6am that he can get dressed and then play Legos for a bit.
In the mornings Logan is the first one up, so he gets dressed (thanks to picking out the outfits the night before) and then he plays Legos till about 6:30 or so. Then I get the count down…. starting at 6:30… I get a 30 minute warning, a 15 minute warning and then a 5 minute warning from Logan for how long until my alarm goes off. Trust me when I say it is a joy to be reminded that 7am is coming that quickly. I have asked him what else he does in that time and he told me he "plays Legos and watches the clock". Then 7am hits and I get out of bed, go into the girls rooms and give them a 15 minute warning…. Logan is soo nice to me that he tells me just about every day that I can have 15 extra minutes and to go lay down 😉 Sometimes he will come lay with me but I am sure that is just because he watches the clock and wants to give me the 10 and 5 minute warning that I need to be up LOL.
7:15 I am out of bed, girls are still sleeping… Logan is telling us all we are going to be late if we don't get downstairs in 5 minutes with a giant smile on his face and bright eyed and bushy tailed…. And if we are all not walking downstairs by 7:20 Logan gets this serious look on his face and sternly says "It is after 7:20, there are only 40 minutes till the bus comes and we need to go now!". Drives the girls crazy who are still not fully awake yet and really aren't fully awake until after they eat breakfast.
Breakfast… The kids are not fans of cereal so to save the morning fight I do freezer meals like french toast or freezer breakfast sandwiches. Pop them in the microwave and breakfast is done in about 6 minutes and its a filling meal that they like. While they are heating I start my coffee, so needed! Don't worry I have a post coming soon with more breakfast freezer meal ideas and recipes I have just been sucking badly at getting them all typed up.
While they eat I get their lunchboxes out of the fridge, and put the ice packs in the lunch boxes and set them on the kitchen counter.
Then they get their vitamins, which I put the container on the counter where I won't miss it in the mornings.
Then hair brushing, hair doing, brushing teeth and getting the girls to put their shoes on, since Logan has had his on since about 6:30am and then its time to grab the sweatshirts and backpacks from the hooks by the front door (even though we leave from the back door but there is no space for them there) and the kids grab their lunches as they pass the kitchen counter on their way out the door and off we go to the bus stop!
Then I come home, grab another cup of coffee and wake up and come see all of your happy faces who are just as excited as I am that it is early in the morning 😉