Disclaimer: This post is sponsored by Aquaphor. All opinions are 100% my own.
My little mommy secret is Aquaphor. This simple cream has so many uses that so many people do not know about. Most people just use it for dry skin, but you can use on simple skin woes like cuts and scrapes. My daughter had very sensitive skin, and eczema and we always used it on her to help with her eczema. I have tried other diaper rash creams on her but they just made things worse. It was my doctor who told me to try the normal Aquaphor cream. Wasn't I was surprised by how much it helped, and a happy mommy too! I was finally able to find something gentle enough for her sensitive skin that helped kick the tough fight that eczema gives!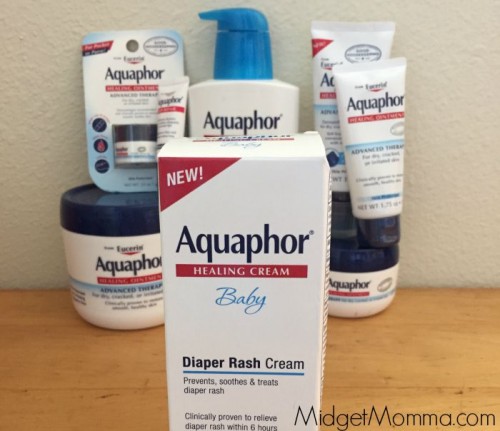 This same gentle brand decided to come out with a new diaper rash cream for babies who have sensitive behinds. Perfect! A brand I already know works great for another issue moms have to deal with! I love that it is preservative-free, which means it is even better for my kids skin. Unlike some of the other creams that are so hard to put on and take off, the new diaper rash cream is easy to put on AND easy to get off my hands! Really helps with the mess of putting it on and then walking around with gross feeling hands for the rest of the day! The greatest part is its proven to relieve diaper rash within six hours!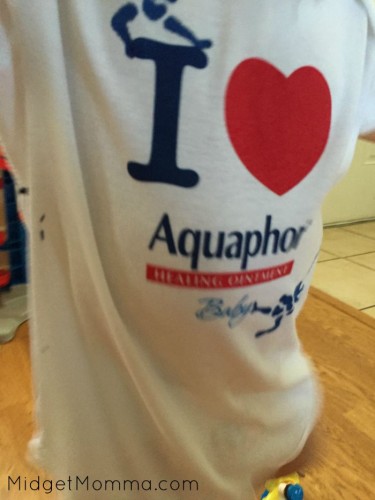 Aquaphor has challenged me to decorate a onesie in a way that reflects how Aquaphor Baby Diaper Rash Cream is the latest baby necessity in my house! They sent me some goodies to decorate with and when I saw the cute monkey stencil I knew I had to incorporate that some how into my design.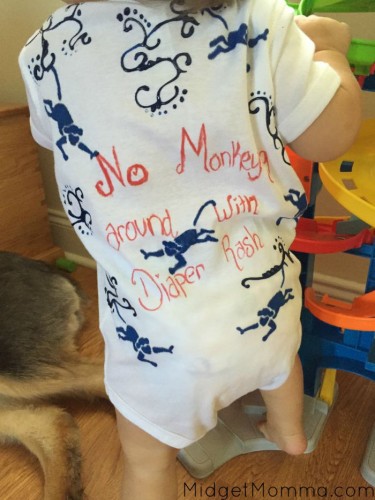 That is how I came up with the saying on the shirt, "No Monkeying Around With Diaper Rash". After I wrote that I added a bunch of monkeys swinging around on some vines. If you are feeling creative send a photo of your own decorated onesies. I would love to see them!!
Plus One MidgetMomma Reader is going to win a Prizepack of LOTS of awesome Aquaphor Products! 
Prizepack includes:
One Aquaphor Diaper Rash Cream
One Aquaphor Baby Gentle Wash & Shampoo
One Aquaphor Baby Healing Ointment Jar
Two Aquaphor Baby Healing Ointment .35 oz tubes
One Aquaphor Baby brag book
How to Enter:
Mandatory Entries:
Sign up for my daily newsletter so you never miss anything
Make me your personal shopper here  (make sure you use the same email address that you sign up with when you leave your comments)
Extra Entries:
Follow me on Pinterest – 1 entry
Follow me on YouTube – 1 entry
RePin any of my recipes here  – 1 entry per pin
Follow Lauren on Instagram – 1 entry
 Tweet- I want to #Win an @Aquaphor Products Prizepack Giveaway – 5 entries daily tweets must be 2 hours apart
Follow MidgetMomma on Facebook– 1 entry
Follow Tom on Twitter – 1 entry
Follow Tom on Instagram – 1 entry
Follow MidgetMomma on Facebook – 1 entry
Giveaway Rules:
No purchase necessary to enter, leave a separate comment for each entry method. This giveaway is not associated with any of the entry methods. This giveaway will run till 11:59 PM EST September 31, 2015. The winner(s) will be picked using And the winner is (a random winner picker) and will be announced in a new blog post. Giveaway is open to US residents who are 18 years or older. By entering this giveaway you are giving consent to be added to the MidgetMomma daily newsletter. Winner will be contacted and have 48 hours to reply to contact e-mail or the prize is forfeited. Prizing provided by MidgetMomma.com
Stay in touch with Aquaphor:
· Facebook: https://www.facebook.com/AquaphorUS?fref=ts
· Twitter: https://twitter.com/AquaphorUS
· Pinterest: https://www.pinterest.com/aquaphorus/
· Instagram: https://instagram.com/aquaphorus/
· Website: http://discoveraquaphor.com/
Disclaimer: This post is sponsored by Aquaphor. All opinions are 100% my own.