We walked around the Alamo and here are a few pictures that I took. The Alamo didn't cost anything for us to go to, but it was fun and you could easily spend a few hours walking around checking it out. I know my kids would enjoy seeing this.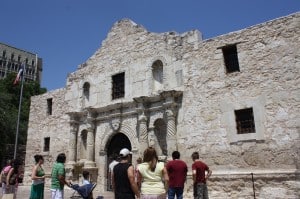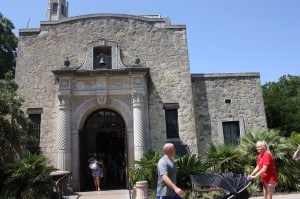 We did save money by parking 2 blocks away from the Alamo, the closest parking lot charged $10 to park all day and the parking lot 2 blocks away was $4. We went with the cheaper one, it really does not take much longer to walk 2 blocks.
I bought my kids souvenirs while I was at the Alamo and the Riverwalk, I got them things that were inexpensive like a key chain because we have started a collection for each of the kids of key chains from places that we go. Starting this has saved us a lot of money because the kids always go looking for a new key chain instead of looking for the big items that cost a lot of money.
Money Saving Tips:
Look for free attractions-you can find many museums and parks that are free.
Look for coupons in local places for coupons to save money. I see brochures with coupons all the time in McDonald's and Wendy's
Set a budget for souvenirs. Start a collection of something that is small and inexpensive so when you go to places you know what you are looking for.
Park farther away, the closer the parking the more expensive but you can save yourself a lot of money by parking a block or 2 away. I saved $6 by parking 2 blocks away.
Join the newsletter
Subscribe to get our latest content by email.
This post may contain affiliate links. Please read my disclosure policy here