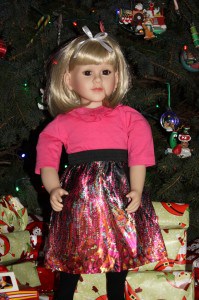 During My Holiday Gift Guide I did a review and giveaway of a My TwinnDoll, A few weeks ago we received our custom My Twinn doll arrived. It was so close to Christmas and my kids had been already overwhelmed with all of the Holiday Fun and activities going on in our house getting ready for Christmas that I decided to hold off giving it to her and put it under the tree. What a perfect idea, since when she wrote her list to Santa she asked him for a Doll that looked like her!
When our doll arrived, she was wearing an adorable pink and black dress, back tights, black shoes and a bow in her hair.  The doll is completely kid friendly, unlike some dolls that are more for looks. My Twinn is poseable can go anywhere your daughter wants her too!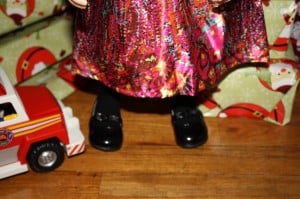 How cute are these shoes?
My daughter was so excited to show me her My Twinn Doll that was under the Tree. All day on Christmas Day she had her doll and she was showing it off to everyone who would listen to her:)  Hubby and I have decided that we will make it so each of our youngest daughter will get a  My Twinn doll for Christmas the Christmas before she turns 6!
You can buy the MyTwinn Dolls right from the MyTwinn site 🙂
Disclaimer: I was not compensated for this review, I did receive product for free to facilitate my review. All opinions are honest and my own.
This post may contain affiliate links. Please read my disclosure policy here