Coffee, it is my go to in the morning when I wake up, it it my go to when I need something tasty during the day, it is my go to when I feel like I am falling asleep and really if you see me about 97% of the time you will see my coffee cup either in hand or in hands reach. When we lived in New Jersey I had 2 Dunkin' Donuts that I drove past in the mornings when I brought Alyssa to school and there was one that was 3 minutes from my house that I would drive to more often then I really want to admit when I wanted a cup of coffee. Yes I could have made it at home but really I did make coffee at home too but still ended up finding myself in the Dunkin' Donuts drive-threw at least twice a day (this is where Tom would pick on me for trash picking our furniture like the coffee table and using coupons like crazy but still being ok spending $4 a day on coffee). Hey it was my "splurge item", which everyone needs even if they are frugal in nature 🙂
When we moved to Pennsylvania last year I never took the time when looking at how far from the houses we were looking at to how far they were from the nearest Dunkin' Donuts, bad idea not to figure that into the house we bought by the way! So it ended up that the closest Dunkin' Donuts was 15 minutes from our house, so that would make it a 30 minute round trip drive for a cup of coffee! I love my coffee and will get it when I am out and about but for me to spend 30 minutes to get it I can not justify that time waste and so when Dunkin Donuts contacted me to work with them about the line of Dunkin' Donuts kcups that are in the store, I could not have said YES! fast enough! I can have been missing my Dunkin' coffee and hearing that there is a FULL line of them in kcup form (because if you have been around for even a little bit here you know my love for my Keurig) this was the perfect solution to the problem I have been having missing my Dunkin' Donuts coffee! Although I do grab a stock supply of the Pumpkin ones before they go out of stock, going out of my way to get Kcups doesn't work very well when I am going to the grocery store and that is a far drive from the house as well.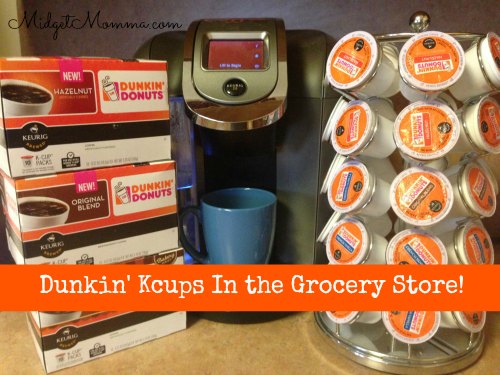 The one and only Dunkin' Donuts K-Cup® pod varieties include Dunkin' Decaf, French Vanilla, Hazelnut and Dunkin' Donuts Bakery Series® Chocolate Glazed Donut flavors. They have everyone who loves Dunkin' coffee totally covered! If you have not tried the Donuts Bakery Series® Chocolate Glazed Donut, make sure you add that one to your must try list! Delish! I always add a small amount of milk and sugar and oh! my! Super Yummo! Now I am going to hope that they add the Pumpkin Spice to the grocery store line, which I am sure you all expected me to say anyway LOL!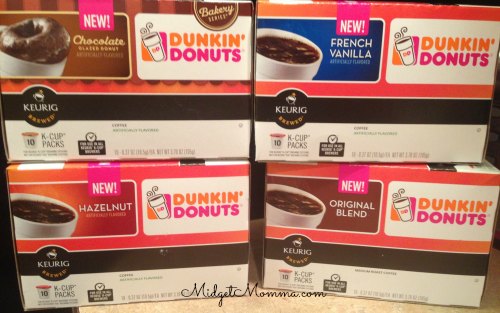 Of course with my love for my Keurig, the fact that the new Dunkin' Donuts K-Cup® pods are just for them and there is no measuring or filters, just pop your favorite Dunkin' Donuts K-Cup® pod in the Keurig and you are able to enjoy a delicious, flavorful cup in no time at all! Look how pretty my kcup holder looks filled with Dunkin' Kcups!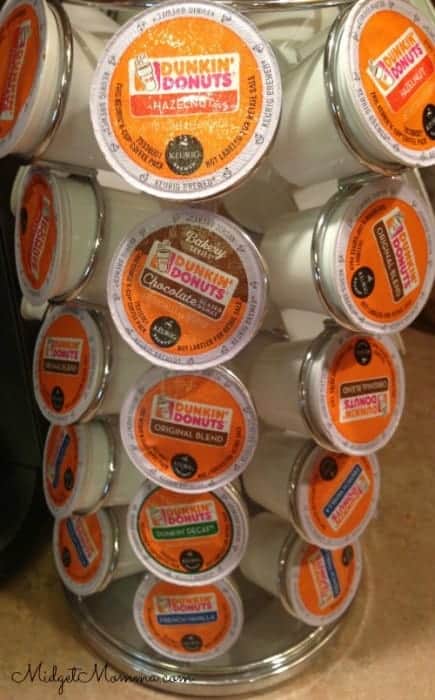 Of course for me one of the best Mother's Day gifts I could get is a HUGE box filled with the new Dunkin' Donuts K-Cup® pods and with Mother's Day, Father's Day right around the corner these make awesome gifts! So when you are doing your grocery shopping keep an eye out for them and you can get your Dunkin fill at home and then help someone you love get their Dunkin' fill too!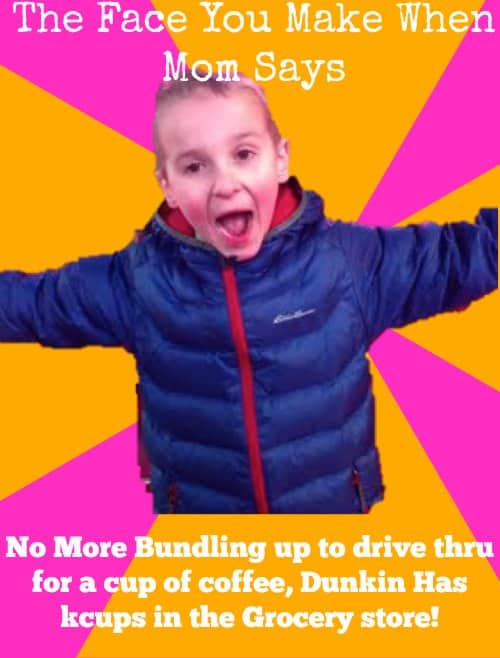 Disclaimer: While this post is sponsored by Dunkin' Donuts my love for Dunkin' Donuts is 100% all mine, if you have been following for a while you already know that a quick drive threw the drive thru makes me smile, so I am sure you can all imagine my excitement when I am brewing a cup in my Keurig at home in my pj's!