April 2014 we moved into the house we are living in now, it is our first home that we have purchased and even though the house is a great one and there is very little fixing that needs to be done, ever since we signed the dotted line I have had dreams of things that I want changed. I want to make the house mine, and for some things like the kitchen, a coat of paint is not going to make it mine. The house has a style that is modern, it is only 10 years old but has things like ugly counter tops that drive me crazy and well you all know me, I like things OLD. Old furniture, Old style everything old. Except for one thing, my appliances. Old appliances tend to be energy suckers and they are ugly so I want the pretty ones, that will be nice to my electric bill.
Of course Tom hears the words, "Honey look at this fridge" and runs away, not because it is a new fridge but because that is just the start to what I have running thru my head and the to do list I want him to do. He is having to learn as he goes, and teach himself as I want things done, like the carpet in the playroom 🙂 So as soon as he hears that I am wanting to redo the whole kitchen. Smart man!
While this is not the color scheme in my head I don't think I would complain if this is the kitchen he came up with vs the one we have now!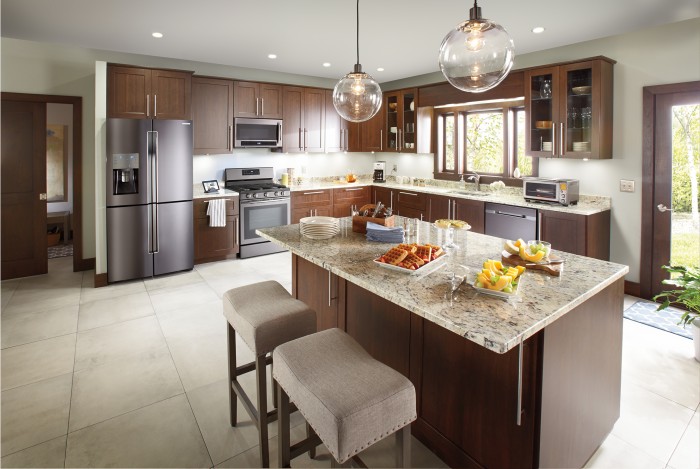 Ok so my color scheme in my head is red and black for my dream kitchen. I want the black and while checkerboard floor, a backsplash all things that Tom gives me "that look" for when ever I start talking about it.
But check out the new appliances from Samsung, Black No fingerprint appliances! Oh I can dream about how beautiful my kitchen would be with these in it. (You know as Tom is crying about having to learn how to cut tile 😉
You can create an elegant and sophisticated look in your kitchen with appliances featuring Samsung technology innovations. These appliances won't show fingerprints like many traditional stainless-steel finishes, plus they're magnetic.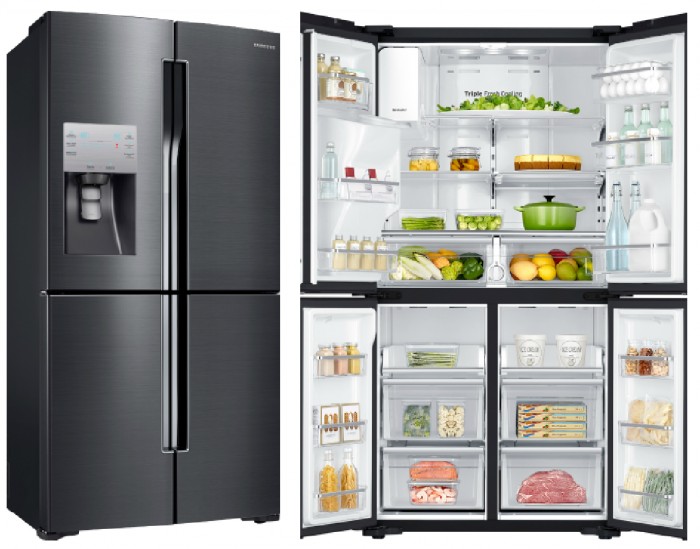 Samsung Black Stainless 4-Door Flex™
Versatile, Bottom-Right Door converts from Fridge to Freezer in a touch of a button between fresh and frozen as needed to expand/contract based on your cooling needs.
This spacious refrigerator keeps your groceries organized with crisper drawers and an adjustable shelf.
Chill your favorite drinks or firm up ice cream in minutes. Power Cool and Power Freeze options can lower the temperature of either compartment in minutes.
The bottom-right compartment can be used as a fridge or freezer with 4 different temperatures to choose from, maximizing fresh food storage space.
And this stove, oh yes please!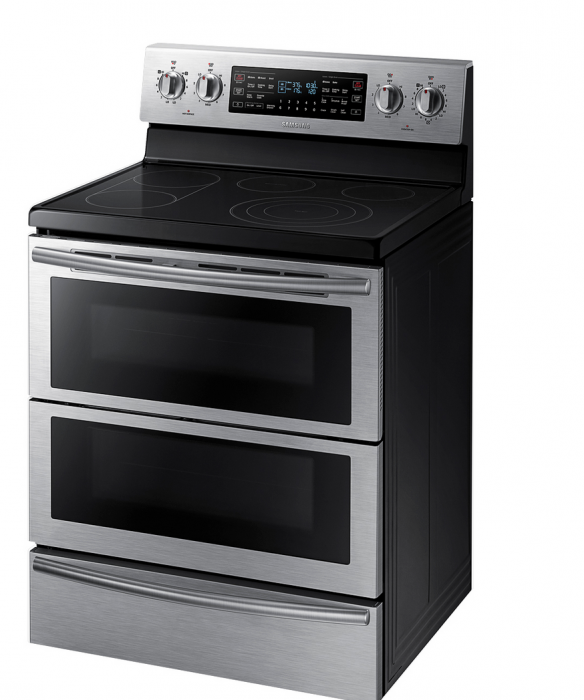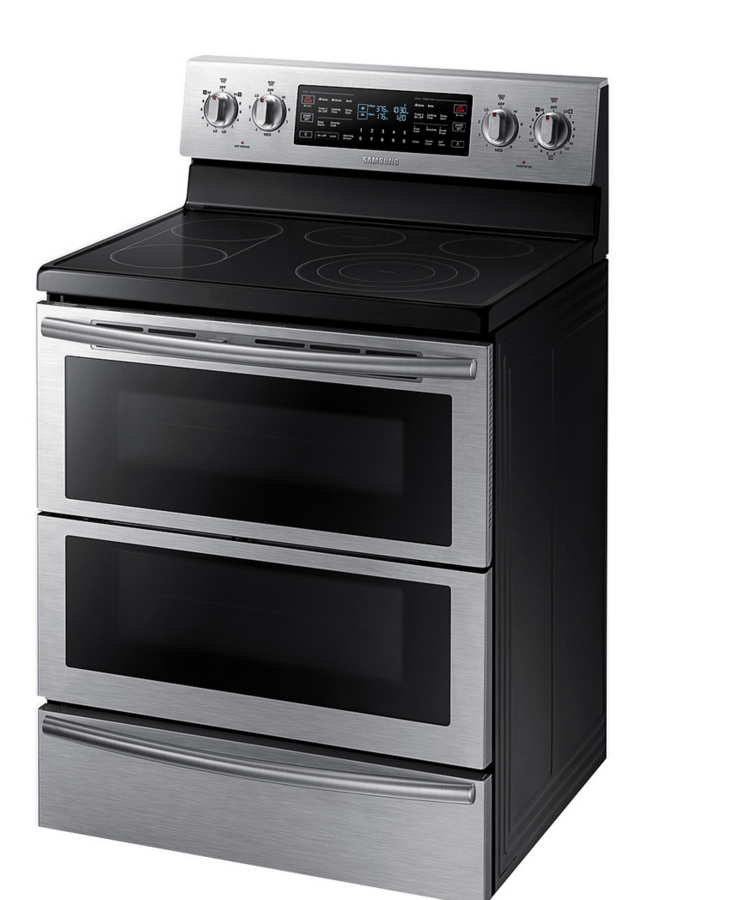 Samsung Flex Duo® Range
The Samsung Flex Duo Range splits in to two ovens so you can cook two dishes simultaneously at two different temperatures or have one single oven to be able to cook that large turkey.
Cook for large gatherings with this Samsung electric range, which features 5 cooktop elements and a warming drawer. FlexDuo technology and Dual Door technology let you program separate compartments with 2 different temperatures for versatile cooking.
Dual Door with Smart Divider opens either separately or as one door for versatile cooking options.
FlexDuo technology enables you to cook at 2 different temperatures at once.
Warming center burner keeps sauces and side dishes hot until they're ready to be served.
Warming drawer offers 3 settings to accommodate different dishes.
Ways to Save:
·         Save an additional 10% off 4+ Samsung Major Kitchen Appliances (Runs through 11/3)
·         Save an additional 10% with the purchase of 3 or more Samsung Chef Collection appliances. (Runs through 12/31)
·         Buy $3000 in Samsung Kitchen Appliances and receive a $300 prepaid card (Runs through 10/31)
Experience Samsung Open House at Best Buy Stores or Pacific Kitchen & Home Stores inside Best Buy Stores. Click here to learn more about these new Samsung Open Houses and click store locator link to find a store near you!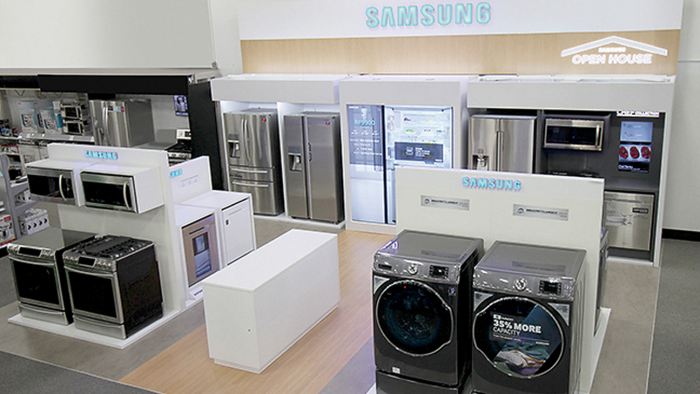 Disclaimer: The reviewer has been compensated in the form of a Best Buy Gift Card and/or received the product/service at a reduced price or for free.