Back in December I had the awesome opportunity to go to New York with a group of bloggers for the War Horse red carpet event, in which I was able to come back and tell all of you all about it and share with you the new Beauty and the Beast in 3D movie, Marry Poppins on Broadway and much more and  I have been holding in something else that is very awesome until now (wish I could have told you sooner but I had to wait) and now I get to spill the beans! 😀
The Newsies are coming to Broadway (which i shared a few weeks ago when their tickets were going on sale) but now you get to see the interview with the man who made it all possible, Steve Fickinger and even more insight into the show . Steve Fickinger is the  VP of Creative Development and Licensing for NEWSIES on Broadway, and we had a round table interview with him. I am sharing with you my favorite questions, answers and information that he shared with us and the ones that I feel will give you the best insight into the Broadway show:)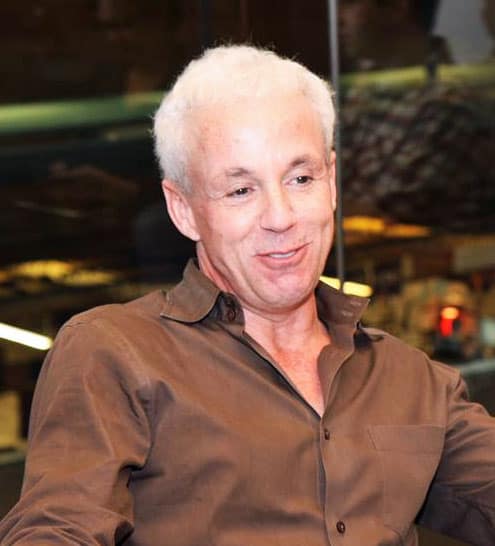 Steve Fickinger's job in his words is :
this is my job in a nutshell, is if somebody says, Newsies, let's make it a stage musical, my job is to get the writer, the lyricist, the composer, spend that period for "X" amount of time, which can be "XYZ" amount of time, uh, with doing readings, drafts, notes, workshops, and then we do the first production to actually get the director, choreographer, set designer, etcetera.

So I would say my job starts with the idea, and my job is done when the curtain comes down on opening night, and everyone loves the show.
He is in charge of getting all of it together, when it comes to putting a new show on Braodway and the work load sounds like a crazy amount but I really loved how you could here his passion for what he does and not just him rambling off the list of things that go into a production. You could tell that he really does love his job and what he does.
I have never seen the movie Newsies, but from what I have been told by friends who did see it they either loved it or hated it and that it did not do well at all and talking with Steve, he said the same thing:) the movie was a big fail in theaters,
Well, as you might know, oddly in the film failed.  Failed, failed.  I think it made maybe three million bucks.  It was in the theater for one weeks, one week, a famous failure.
But While it was a failure in the theater, it had a different affect on people when it came out on VHS.
But it developed this cult following on home video, and there is a generation of kids who, uh, again, you know, let's meet me in age, were now maybe twenty-five, twenty-eight, thirty, this movie is like a religion for them.  They know everything about it, they know every word, they know every lyric, they know the moves, wonderful.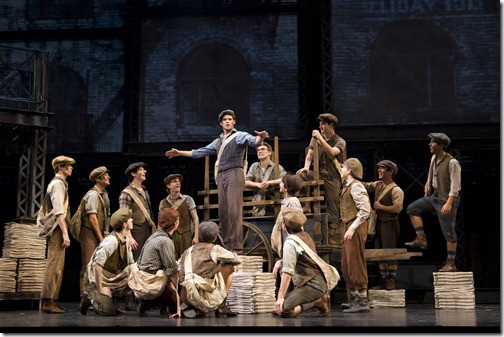 Steve shared with us how Newsies became a Broadway production and how it was one that he always wanted to do.
About seven years ago, I picked up the phone and I called Alan Menken and Jack Feldman, who did the original film, and also spoke with Bob Tzudicker and Noni White who wrote the original film.And I said, so let's do this thing.  Uh, I think it was a year until I could even get the people in the room for the first time.  People's schedules are very complicated and things just take time.  And we probably worked for, um, I would say probably two years on a stage adaptation.  Now, uh, Bob Tzudicker and Noni White are fantastic writers and wonderful people.  Um, I hope that this comes out the right way or goes out there the right way.
I loved his response to why not all Disney movies end up on Broadway, and when I think about the musicals I have seen weather on Broadway or in a local theater it really makes it make sense. There is so much work that goes into a Broadway show taken from a movie that anything other then a movie that has been loved for decades would just be a flop if it were turned into a Broadway show.
  One of the things that, um, I believe, and I'm only going to say this for myself, is that, you know, when you do a stage adaptation, if a film is, opens and is immediately very, very successful, it doesn't always mean that it's going be beloved for decades.  A stage show has to be, or I believe, often based on something that is, was, or you feel will be be beloved for decades.

Why?  Because you can, first of all, it takes years to do them.  So lets just say, I'm going to make up a name, let's say there was, you know, th- the Sparkle movie.  You know, i- if nobody cares in a year, I'm still working on it in a year, you know.  It's becoming very difficult and we've done stage things, not Broadway things, we've done stage things based on things that, as we progress, by the time we got them out, the character didn't go on.  You know, so it's, stage adaptations are not, by their nature based on things that ephemeral, unless you're able to, someone like Newsies, you go, well, there's something there that people like.Because twenty years, they're still interested in it.  So I'm not saying it has to be a block buster for you to do a stage adaptation.  You either have to see something in it that you feel will last for the decades, or something th- that has already lasted through the decades.
The cast looks very young, what are the age ranges?
I would say to you, the median age is about twenty-three, and a lot of them were in this recent revival of West Side Story that was just on Broadway.  We do have some of the kids who are in Spring Awakening, um, but Broadway, or the tour.  So they are young, but if you see this show or when you see the show, their level of ability in terms of not just their singing, but their dancing, it is extraordinary.  And just, I mean, dance is a young people's art form anyway, but not just for young people, for anybody.
Quick Overview of  Newsies:
Newsies takes place in New York City at the turn of the century and a group of teenagers who are all newsboys have dreams of having a better life then the one they are living now. Their group is led by a boy named Jack Kelly and they the call themselves Newsies. When the publishers raise prices of distribution of the newspaper and it is at the cost of the newsboys, Jack rallies newsies from all over New York City to stand up against it with a strike. It is based on the Newsboy Strike of 1899.
Tickets went on sale on January 30, and the show opens on March 29 and will run through June 10! I am very excited because while I did not see the movie, nor have I seen the VHS tapes, I did get to see a preview of the Broadway show and it looks like it is going to be AMAZING! Thankfully New York City is only a 40 minute train ride 🙂
You can keep up with all the Newsies News on the Newsies Facebook page.
Disclaimer: I was not compensated for this post. I did go on an all expenses paid trip to New York City thanks to Disney and Dreamworks. All opinions are my own.