There's a Ninja in my kitchen!
Today I was very excited to receive the Ninja Cooking System. One of my friends has the ninja set out on her counter at all times. She is always raving about something new she's cooking in it. I didn't get it because I'm not huge fan of the slow cooker to begin with but this is not just a slow cooker. Yes it has the slow cooker mode but it has so much more.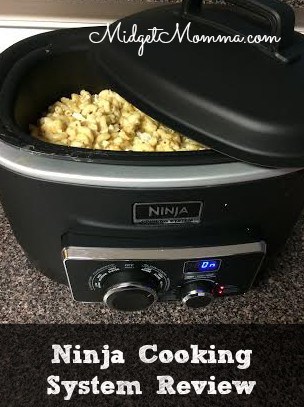 Most slow cooker meals you have to start off on the stove and then move it into the slow cooker. This seems pointless to me and I normally just continue the meal in the oven instead. But with the ninja system you were able to see sear your meats and brown your vegetables right in the cooker without having any extra dishes.
In our house the crockpot barely ever get to use by me. Even though my husband does not like to be in the kitchen he does like to cook every now and then with the crockpot which is so unlike me. I am horrible at timing the slow cooker meal I either think of it too early or too late. But with the Ninja slow cooking settings you are able to set your time needed and once it's finished it will automatically switch to warming mode. This makes me more willing to make crock pot meals.
The last setting the ninja cooking system has is the steam baking. You are actually able to bake in this cooking system! The box said you're able to cook with 30% less fat because you are steam baking. Now I thought this was too good to be true. And much to my surprise it was true everything was so moist. This is great for when my husband and I just want to each have one dessert. It eliminates tons of extra desserts laying around the house because I would end up eating them all and gaining 50 pounds.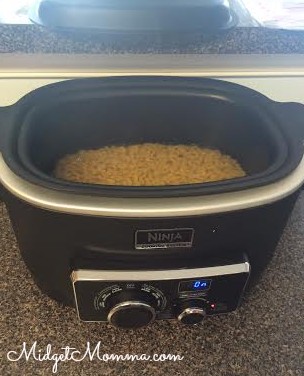 I started to test out the Ninja with my apple butter recipe. I was able to just turn the lid to vent it instead of having to rig something up with a wooden spoon to keep my old crockpot lid open. Normally I start the recipe early in the morning so I'll be there to turn it off before gets too thick. Now with the ninja I was able to set it for the time I wanted and it automatically turn to warming. Once I tried a few recipes in it I modified one of my mac & cheese recipes just for the ninja. I was able to boil my noodles right in the same pot that I was going to be cooking the whole mac & cheese recipe. Now mac & cheese is it ultimate test for the nonstick coating. To test it out I "accidentally" forgot to wash the pan that night. (A colicky newborn and a crazy toddler makes it very hard to remember to do dishes that night.) So all the cheese harden up in normally would be a huge disaster in my normal pants. I was shocked when I didn't have to soak the pan. The stuck on cheese just wiped away!
I am surprised to say I now see why my friend loves her ninja cooking system so much. This is no ordinary slow cooker system. My crockpot has now found a new home thanks and someone else's house and my new ninja system is now taking its place.
Disclaimer: I was provided this product free of charge to facilitate my review. No compensation was received and all opinions are 100% my own.