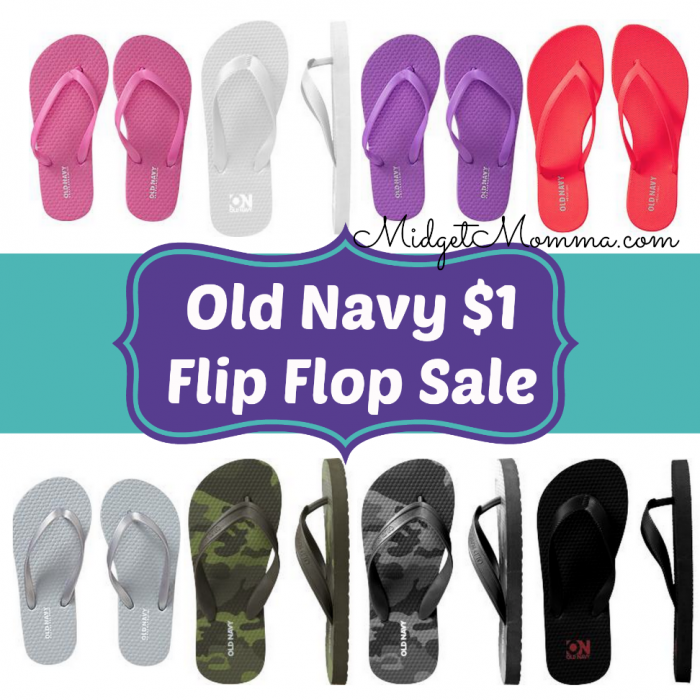 MY LATEST VIDEOS
Old Navy $1 Flip Flop Sale 2015
Wahoo!! Everyone mark your calendars! I know we have all been wondering when the Old Navy $1 Flip Flop Sale would be for this year and I am excited to have the news 🙂 The Old Navy $1 Flip Flop Sale 2015 we have all been waiting for will be on June 20, 2015!! They will be ONLY $1 a pair! These are my favorite Flip Flops!
They have not made the official announcement but someone on their facebook page asked about the Old Navy $1 Flip Flip Sale for 2015 and they said June 20! Woot Woot!
If you are in Canada you will be able to snag yours on July 4!
There is usually a 5 pairs per person limit with the sale and you will want to get there early. But I always like to bring the kids, give them $5 and let them get 5 pairs too 🙂
Old Navy $1 Flip Flop Sale 2015
A tip from Reader Shana- If they are out of your size and/or color you want buy the amount that you want and then come back and exchange them for the sizes you want and need after they restock!
Make sure you mark down the  Old Navy $1 Flip Flop Sale on your calendar so you don't miss it! But don't worry I will remind you about the Old Navy $1 Flip Flop Sale as we get closer to the date too just in case you forget!
Of course there is only one thing better then $1 flip flops at Old Navy, and that would be FREE Flip Flops at Old Navy! Head on over here and you can win flip flops or even a beach get away!  There will be 10,006 winners in the FREE Old Navy Flip Flop sweeps to head on over here to enter to win!
Then make sure you have the calendar marked so you can get your
This post may contain affiliate links. Please read my disclosure policy here