WAHOO!!!! The Old Navy Flip Flop Sale is almost here!!! This sale is my favorite sale every summer and the kids and I stock up on the flip flops we need for the whole summer! The Old Navy $1 Flip Flop Sale is coming in June!
Old Navy Flip Flop Sale
Old Navy Flip Flop Sale 2019
My favorite sale of the summer is this weekend! This weekend on Saturday June 15th, 2019 you will be able to get Old Navy Flip Flops for $1!
There is a limit of 10 pairs of flip flops per transaction. But you can do multiple transactions, I have each kid do their own transactions. I always like to bring the kids, give them $10 and let them get 10 pairs too!
A tip from Reader Shana– If they are out of your size and/or color you want buy the amount that you want and then come back and exchange them for the sizes you want and need after they restock!
If you are not one to brave the crowds, most Old Navy flip-flops are on sale for $2 each in the days before the big $1 sale day on Saturday.
Old Navy Flip Flop online Sale
This $1 Flip flop sale is both online too. If you are shopping online just use coupon code BALLA. The sale will start online at 12:01 a.m. Pacific time on Saturday, June 15. Yup that is 3:01 am est! Set the alarm clocks!
Get a FREE Pair of Flip Flops at Old Navy!
This year, for every $24 you spend you will get a FREE Pair of Flip Flops as long as you shop before noon on Saturday June 15th!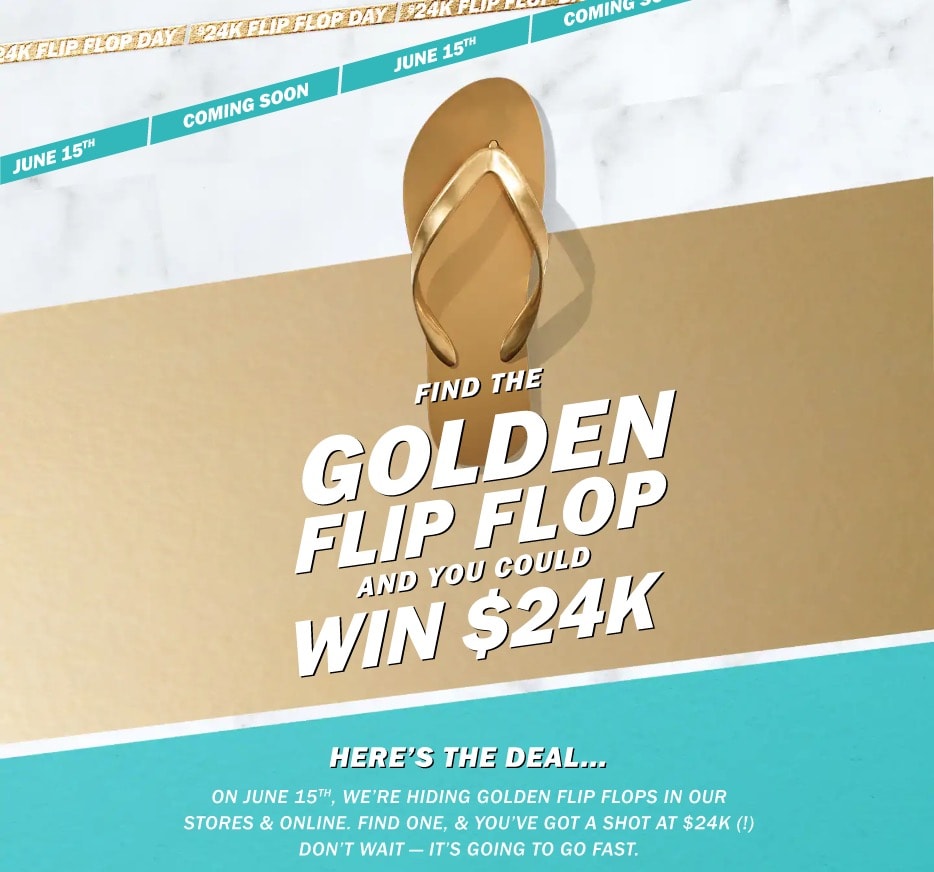 Win $24,000 from Old Navy!
This year Old Navy has made it even more fun by hiding Golden flip flops thru out the store shelves and on the online website. If you find one you will be entered to win $24,000!!!
Make sure you mark down the  Old Navy $1 Flip Flop Sale on your calendar so you don't miss it! But don't worry I will remind you about the Old Navy $1 Flip Flop Sale as we get closer to the date too just in case you forget!
More Summer fun for Kids!
If you are a movie loving family then check out the Regal Summer Movies where you can see movies for just $1 and the AMC Summer Movies where you will get a Movie Ticket and snack pack with popcorn for just $4!
If your kids love slime, then make sure you check out this post on how to make slime without borax.
Check out the FREE Summer Activities for Kids, for even more FREE summer fun!
You will also probably love this Summer Rules List Printable – it is a great way to help keep the kids from spending to much time on electronic devices.
There is a really awesome program that gives FREE Lunch to all kids all summer long!
Also don't miss the Barnes and Nobles Summer Reading program where kids can get FREE Books and the Kids bowl FREE Program – the kids can bowl for FREE all summer long!
Kids can also skate for FREE Nationwide all summer long too!!
If you are looking for more summer fun ideas Make sure you also check out the 100+ Fun things to do with kids this summer.
My kids love the FREE Home Depot Kids Workshop too!
If you are looking for discounts on local things to do with the kids that are budget friendly check out Groupon and LivingSocial, where you can score deep discounts on family activities.
Make some Puffy Sidewalk Paint! This is sooo much fun to do with the kids!
Join the newsletter
Subscribe to get our latest content by email.