Tadpoles! Yes you heard right we have about 200 pet tadpoles! Well somewhere around that many there are to many for us to actually count them! We found them in the pond being built in the backyard and because it was drying out since it is really just a dirt hole right now we moved them to a pond insert(not sure my parents are to happy about that since it is their pond insert I hijacked but we will be getting a kiddie pool for the tadpoles this week)
Here is where we found them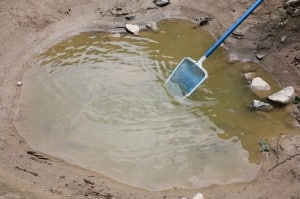 They are now in here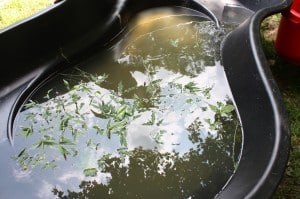 And here are some of our tadpoles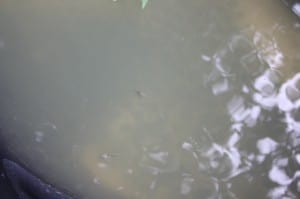 Our kids are LOVING the tadpoles. We are going to watch them grow and turn into frogs. Not only are my kids having fun but they are learning about how a frog becomes a frog with out me having to put out any money at all (except for the $5 I will spend on the plastic pool for them). I will continue to take pictures as the tadpoles turn into frogs, so if you all want to show them to your kids you can:)
Nature is a great way to have fun and be frugal, many educational conversations can come from being outside in nature. Look for more posts on the frugal fun things that we do outside in nature as a family!
What are some of the fun family activities that you do when you are outside with your kids? What are their favorite things to do in nature?
Join the newsletter
Subscribe to get our latest content by email.
This post may contain affiliate links. Please read my disclosure policy here