There is a new show you all have to check out with the kiddos! Ok really that means let them watch it so you can have a few minutes to gather what sanity you have left in the morning after getting everyone up and fed!
P. King Duckling! A new television series on Disney Junior, that is perfect for kids ages 2-7! This hilarious show is about P. King Duckling, and his two friends Chumpkins and Wombat who go on some pretty hilarious adventures in their town of Hilly Hole. As they go on their adventures they also seem to get into a bit of trouble, and run in to challenges along the way but always find creative and hilarious ways to make things better!
The show has a fun, positive vibe while the trio goes on their adventures and figures out the solutions to the challenges they run into! This show will totally inspire the kids to be creative and overcome the challenges they have and show them that you can always turn a not so good thing into a positive.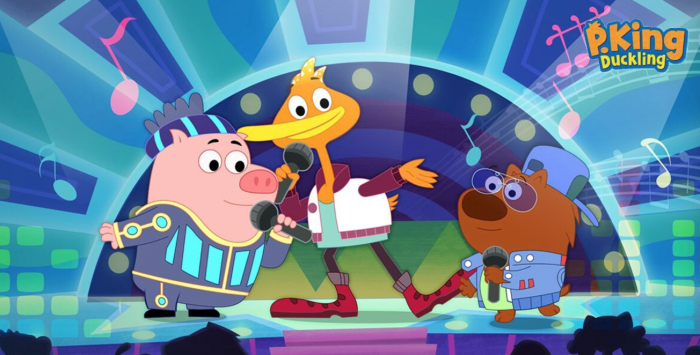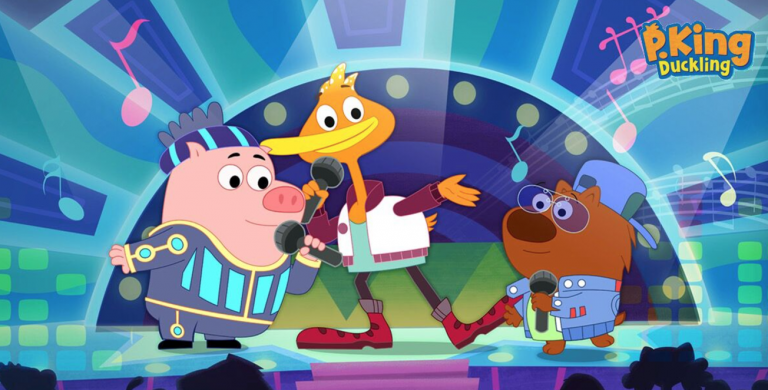 In the one episode we watched, P.King Duckling and his friends went to the amusement park, only to find out that it was closed! Instead of letting that ruin their day they came up with a plan to get everyone they knew to join together and get the park back to working and to fix all the rides!
I also have to say, I was a BIG fan of the episode where P.King Duckling gets a new phone on his friends special day. Thru out the episode he is totally engrossed in his new device and totally missed important things going on. In the end he realized that he was spending to much time on his phone and not enough with his friends. This is such a great message that we need to be sharing with kids of all ages since electronic devices are a part of our everyday world and highly used.
P. King Duckling which airs on Disney Junior weekdays at 8:05 AM which is just in time for that 3rd reheat of the morning cup of coffee! So once the morning routine of breakfast and craziness has settled down, you can let the kids have fun watching this new show and you can enjoy that semi-warm cup of coffee!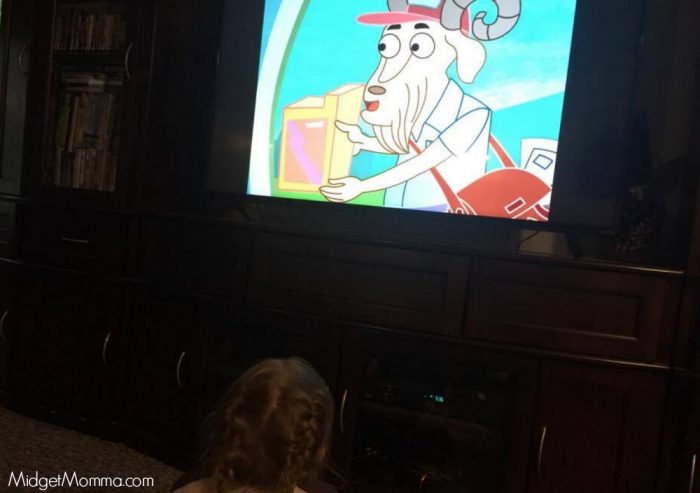 Of course I put Alyssa to work to find out what she thought of the series, and she immediately informed me that "When Hannah gets bigger she is going to LOVE the show".
What Alyssa thought:
When I have a bad day I can be like the duck and make it a good day by being creative. I think that kids will like this show on Disney Junior and that they will laugh a lot and learn a lot too."
P. King Duckling Gift Pack Give-away:
The P. King Duckling Give-away Gift Pack includes:
Tote Bag
Water Bottle
Beach Ball
T-shirt
Flying Disk (like a Frisbee)
Retail Value:  $30 value – Giveaway Ends July 1, 2017
Mandatory Entries:
Sign up for my daily newsletter here  so you never miss anything
Tell me what you think your kids will like most about this show.
Extra Entries:
Follow me on Pinterest – 1 entry
Follow me on YouTube – 1 entry
Follow Me on Instagram – 1 entry
Tweet – I want to win a @PKingDuckling Prize Pack from @MidgetMomma1200 #giveaway  – 5 entries per day, entries must be 2 hours apart
Join my Deal Group on Facebook here – 1 entry
Follow MidgetMomma on Twitter  – 1 entry
Giveaway Rules:
No purchase necessary to enter, leave a separate comment for each entry method. This giveaway is not associated with any of the entry methods. This giveaway will run till 11:59 PM EST May 13th  2017. The winner(s) will be picked using And the winner is (a random winner picker) and will be announced in a new blog post. Giveaway is open to US residents who are 18 years or older. By entering this giveaway you are giving consent to be added to the MidgetMomma daily newsletter. Winner will be contacted and have 48 hours to reply to contact e-mail or the prize is forfeited. Open to US mailing addresses only. 
Join the newsletter
Subscribe to get our latest content by email.
This post may contain affiliate links. Please read my disclosure policy here