If you have been visiting here for a while you know that I rant and rave about my favorite lunchbox brand, the Pack-It! While they are on the pricier side I just can not give up my long time love for them. They last for a long time, so that $20 will get you a lunch box that will last you 3-4 years PLUS you do not have to buy any ice packs to keep the kiddos food cold because you take the whole lunchbox put it in the freezer and in the morning just take it out and then put your kids food in and they are good to go!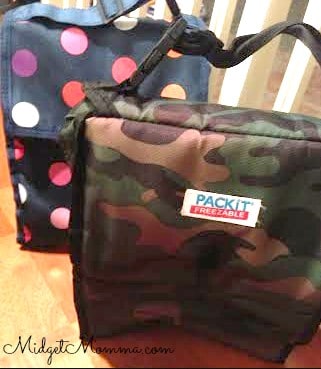 They have some really awesome and new styles and I am loving the new design. Now the top of the lunch box zippers shut, before it was only with velcro but it still kept everything cold but now the zipper makes it work even better!
ABOUT PACKIT:
PackIt is the one and only freezable cooler that keeps food and drinks cold on the go for up to 10 hours-no ice packs needed! Each bag is foldable and has a patented freezable gel built into its lining so the entire cooler can be stored in the freezer overnight. Simply pull it out in the morning, pack up and go. Its frozen walls create cold inside the bag and even chill room-temperature items in about an hour. PackIt's coolers for lunch, wine, baby bottles, shopping, picnics and more are sold in over 20 countries worldwide and at better US retailers. For more information, visit packit.com.
Disclaimer: I was provided product to facilitate this review. No compensation was received and all opinions are 100% my own 🙂