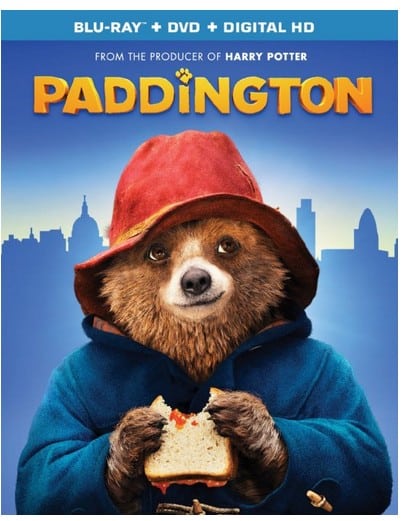 We all know the story of Paddington. And if you don't know the story exactly, I am sure you have heard about it somewhere. Let me tell you I was super excited when I heard that a Paddington movie was coming out. I was even more excited when I got the opportunity to review the Paddington Blu-Ray/DVD. I didn't get the chance to see it in theaters so what better way to see it then at home with your family. But enough of my babbling. Let's see what this movie is about!
Paddington is a bear who lives with his Aunt and Uncle in a place called Darkest Peru. We are led to believe it is called this because, well, they live in a deep forest in Peru. Years ago, an explorer from London came to explore Darkest Peru. That is where he met the bear family. The explorer gave the bears names. The male bear was given the name Pastuzo. The female bear was given the name Lucy. The reason for this is because a bears name is a roar which humans can't understand or say. The explorer leaves Peru but introduces the bears to marmalade and leaves a couple momentos including a snow globe of London. He also gives Pastuzo his red hat. Fast Forward by some years and we see the bear family much older and with a Nephew (who later is given the name Paddington). They all dream of going to London one day. That night, a terrible earthquake hits. Paddington and his Aunt Lucy make it to safety, but Uncle Pastuzo does not. The next morning, Paddington finds his red hat and takes it as a memory. His Aunt Lucy decides its best if he goes to London so she stows him away in a boat. When he arrives in London, he heads to the subway station to find a forever family. A family stops (The Brown's) and agrees to keep him for a night until they can take him to the authorities. They also give him the name Paddington. From this point there are plenty of funny moments as Paddington gets into all types of mischief. There is also a nemesis for Paddington. Her name is Millicent Clyde. She wants to stuff Paddington and add him to her collection. I won't spoil anymore but you will not be disappointed.
Now let's take a quick look at the bonus features on the Paddington Blu-Ray/DVD. There is everything from meet the characters (which is awesome) to a bonus feature called Page to Screen which tells how it went from the books to the big screen. You will love it. There are more bonus features for you to discover. Paddington will make you laugh, cry, and have a whole range of other emotions like any great movie would. By the end, you'll wish there was more. And you and your family will have a new friend. His name is Paddington.
MIDGETMOMMA.COM SCORE- 10 out of 10