Yesterday morning I had the amazing opportunity to attend the Parent's Power Breakfast in New York City, where Katie Couric and Dr. Ellen Galinsky spoke about parenting  and "How to Raise Children to Take on Challenges", while I have done many things that they talked about I always wondered if I what I was doing would help my children later in life and wanted to know how I could better my kids lives as their mom and make them be better adults when they grow up (because that is what being a parent is, raising children who turn in to adults).
As a mom of 3 there are times that I sit and wonder if I am being "to hard" on my children and give them to much "tough love". They are 7, 5 and 2 and I have never been one to coddle them or hoover over them and do things for them, I let them learn and figure things out. I have taught them to learn from their mistakes and how to deal with challenges. In our house we don't see bad grades as a negative (although who doesn't want their kids to have straight  A's) but that with each grade that they receive that is not perfect it is a chance to learn from their mistakes and make them try harder next time. When they fall and scrape their knees I give them a kiss on their boo boo, and a bandaid but not until they mention it, there have been many times that they have fallen down and they didn't mention it at all and got up and went on their way and other times that they have needed my help from the fall. When they are learning new things that are challenging I don't do it for them, I make them figure out how to do it themselves. With these types of things I have wondered if I am to hard on my daughter when she asks me a question like what is 5 + 10 (she has fingers to help her and I can teach her but giving her the answer won't help them) or when the kids are arguing over a toy they both want to play with if I should intervene. But as they are growing up I am seeing that the "tough love" I have given them has given them the skills they need to work out situations, they can disagree with each other on what to play and come up with a solution that works for both of them with out my help and that to me means I am giving them essential skills for when they are older.
Listening to Katie Couric and Dr. Ellen Galinsky talk about things that help and hinder children I felt relieved about how we have chosen to parent our children. My kids are not always happy children, and they have times where they are disappointed but that is life, life is not all flowers and lolipops, but an adventure that we have to navigate and learn as we go.
Some of the key points I took from this breakfast are:
Help your children figure out HOW to fix something instead of fixing it for them
Help your children learn HOW to do things instead of doing it for them
Look at "failure" as a learning experience and not a negative
Allow your children to have other experiences then just happiness so they know how to handle and react to those feelings when they are older
They mentioned knowing someone who took their mom with them to a job interview and I could never even think of asking anyone to come with me let alone my mom, nor would I want my kids to want me to go or feel like they needed me to go to something like that. I want to raise my children to be independent, hardworking people not people that are reliant on me for their whole lives. I am raising my kids to know that I support them in what they do and that I am always there for them and to help them, but that when it comes to life's challenges weather it be figuring out how to put legos together now while they are young or how to talk to someone when they are in an interview later in life I will guide them, offer advice and help them but I won't do it for them and that life's challenges are a learning experience and to take every "failure" they get in life as a positive and learn from it.
Dr. Ellen Galinsky is the author of the book, Mind in the Making: The Seven Essential Life Skills Every Child Needs
 and Katie Couric's book  The Best Advice I Ever Got: Lessons from Extraordinary Lives
 are 2 books that I have added to my parenting reading material. I started reading them on the train ride back yesterday and I am looking forward to sharing them with hubby and having him read them too 🙂
Me and Katie Couric at the breakfast, she was so kind to stop and take a picture with me and talk with me for a few minutes.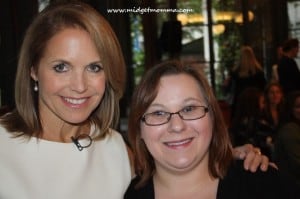 How do you parent your children? Do you let them learn from their mistakes? Do you help them whenever they need it? (remember there is no WRONG way to parent, it is a learning experiences for us all 🙂 )
Disclaimer: I was invited to attend the Parents Power Breakfast, no compensation was received for attending, nor was I required to write a post about it. All opinions are 100% my own and may differ from yours 🙂 I did recieve a copy of each of the books mentioned in this post for attending the breakfast.
Join the newsletter
Subscribe to get our latest content by email.
This post may contain affiliate links. Please read my disclosure policy here